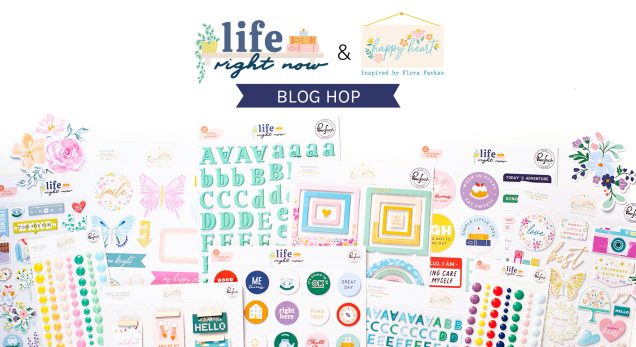 Hi crafters! Happy Monday! Today is a very special day! Yes! It's release day! Thank you for joining me for the Pinkfresh Studio Happy Heart/Life Right Now Collections Release Blog Hop! Have you seen the new SCRAPBOOK COLLECTIONS? They are so lovely! And to celebrate Pinkfresh Studio's release, there is an amazing blog hop today. I'm sure that you are going to love it! Happy Heart and Life Right Now collections are amazing!
¡Hola crafters! ¡Feliz lunes! ¡Hoy es un día muy especial! ¡Si! ¡Es día de lanzamiento! Gracias por acompañarme en el lanzamiento de las nuevas colecciones «Happy Heart/Life Right Now » de Pinkfresh Studio. ¿Han visto las nuevas COLECCIONES de SCRAPBOOK? ¡Son adorables! Y para celebrar el lanzamiento de Pinkfresh Studio, hoy tenemos un Blog Hop increíble. ¡Estoy segura que les va a encantar! ¡Las colecciones Happy Heart y Life Right Now son asombrosas!
First of all! If you ended up here from Brianna Leppers's blog then you are on track. Your next stop is Dilay Nacar's blog. To start the blog hop from the beginning you can go to Pinkfresh Studio blog. Have fun and discover the beauties that my teammates have made for you!
¡Primero que nada! Si estás aquí desde el blog de Brianna Lepper, entonces estás en el camino correcto. Tu próxima parada es el blog de Dilay Nacar. Si quieres ver el Blog Hop desde el principio, puede ir directamente al blog de Pinkfresh Studio. ¡Diviértete y descubre las bellezas que mis compañeras de equipo han hecho para tí!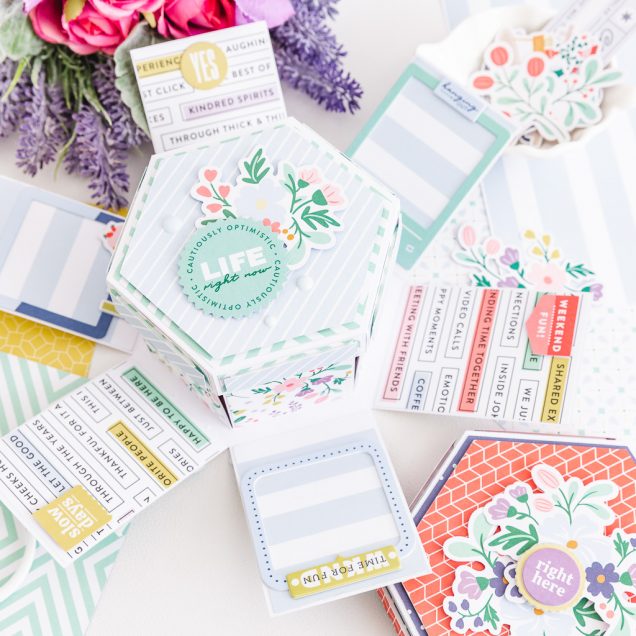 Let's get started with this blog hop! For this time I prepared a fun and coloful project. I made an explosion box mini album using the Life Right Now collection.
¡Comencemos con este blog hop! Para esta ocasión preparé un proyecto colorido y divertido. Hice un mini album con una explosion box y usando la colección Life Right Now.
For my project I'll be using: Life Right Now 12×12 paper pack, Puffy Stickers, Ephemera Pack, Floral Ephemera, Cardstock Stickers, Chipboard Frames, Chipboard Flair, Puffy Alpha Stickers and Enamel Dots.
Para mi proyecto usaré: el Life Right Now 12×12 paper pack, Puffy Stickers, Ephemera Pack, Floral Ephemera, Cardstock Stickers, Chipboard Frames, Chipboard Flair, Puffy Alpha Stickers y los Enamel Dots.
And I attach below all the photos of this release so you can see both collections and choose all your favorite items.
Y les adjunto a continuación todas las fotos de los nuevos productos de este lanzamiento para que puedan verlos y elegir todos sus favoritos.
Life Right Now Collection/Colección Life Right Now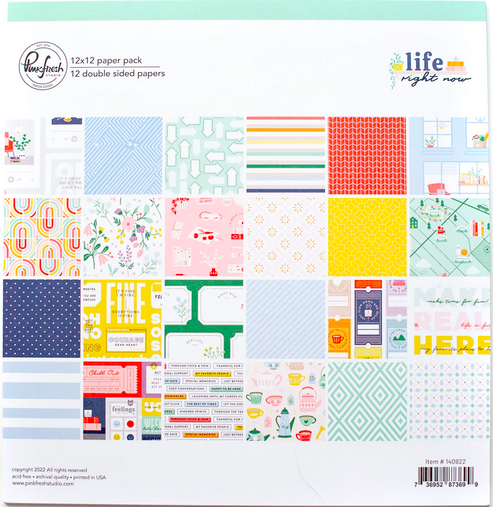 Happy Heart Collection/Colección Happy Heart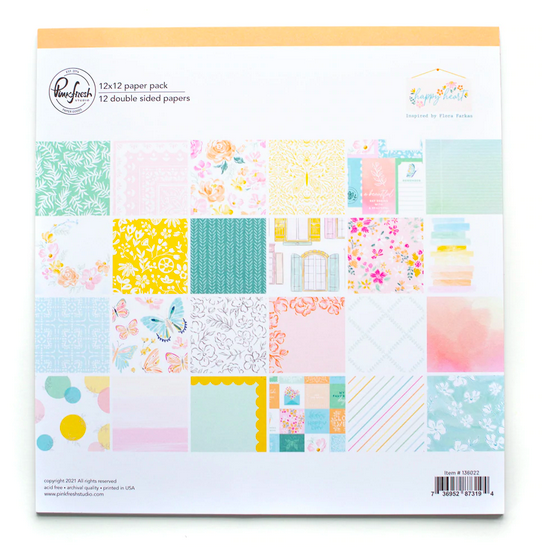 To prepare this explosion box mini album first thing to do is to cut as many boxes as you wish. You can use any of the cutting files available online with your electronic cutting machine or tools or cut them by hand. In my case I cut 3 hexagonal boxes. I wanted to give it the look of a house, that's why I chose that design.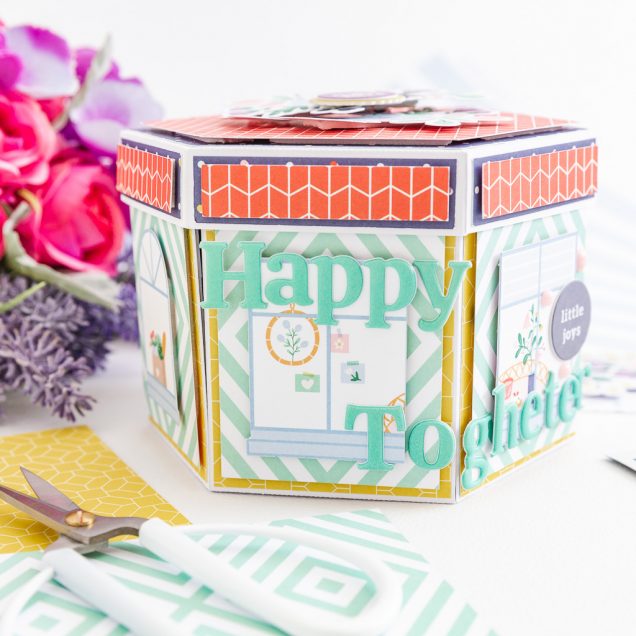 Para preparar la explosion box mini album lo primero que hay que hacer es cortar tantas cajas como desees. Puedes usa cualquiera de los archivos de corte disponibles online con tu plóter de corte o herramientas o cortarlas a mano. En mi caso corté 3 cajas hexagonales. Quería darle es aspecto de una casa, es por ello que elegí ese diseño.
To decorate the outside of the first box I used the paper of lovely windows of the Life Right Now 12×12 paper pack and 3 more other papers (same paper pack). I glued them in layers using foam 3D. I loved the result! It looks so good! Also I used Floral Ephemera, Chipboard Frames, Chipboard Flair, Puffy Alpha Stickers and Enamel Dots.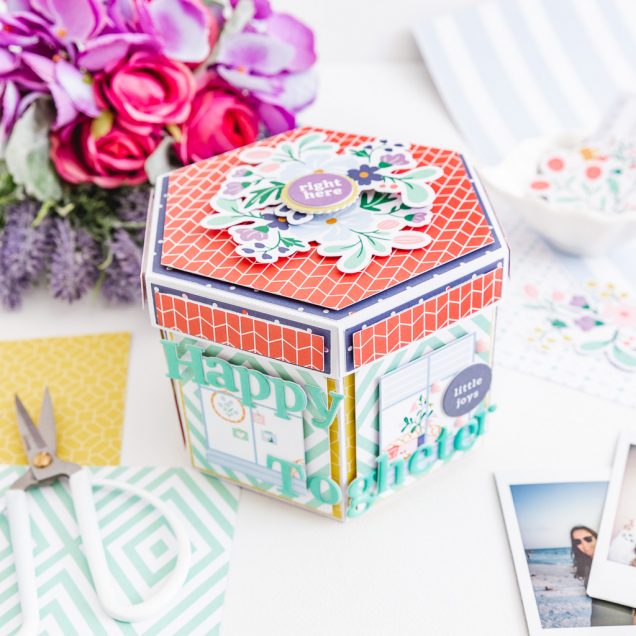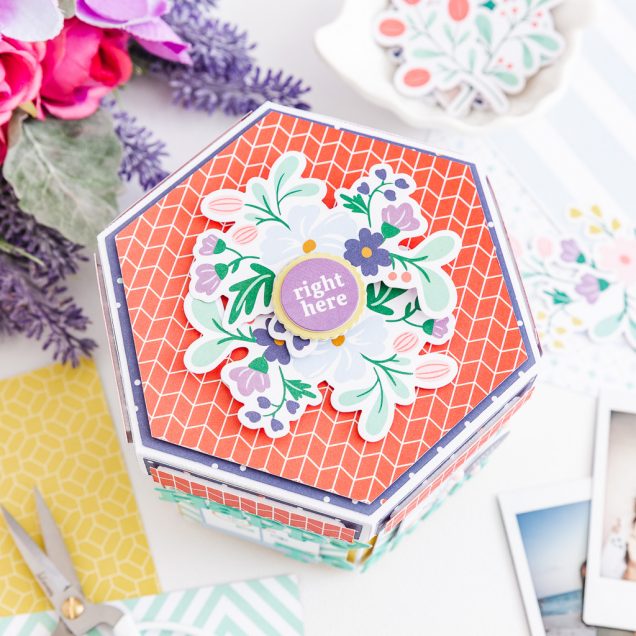 Para decorar el exterior de la primer caja usé uno de los preciosos papeles del Life Right Now 12×12 paper pack y 3 más (del mismo pack). Los pegué en capas usando foam 3D. ¡Amé el resultado! ¡Se ve tan bien! Además usé los Floral Ephemera, Chipboard Frames, Chipboard Flair, Puffy Alpha Stickers y los Enamel Dots.
Once you open the box, you can decorate the interior too. These are the spaces that I'll be using for my photos and a bit of journaling. First decorate all inner sides of the box and then you can start with a new box.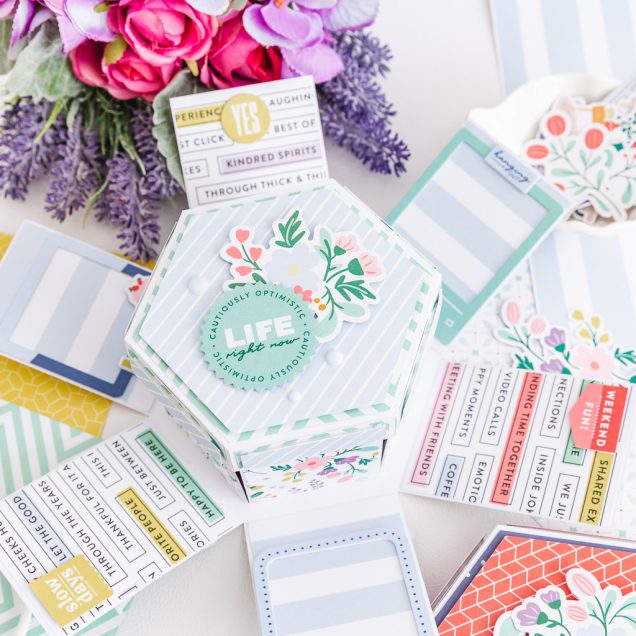 Una vez que abres la caja, puedes decorar el interior también. Estos son los espacios que usaré para las fotos y para añadir un poco de journaling sobre ellas. Primero decora todas las caras interiores de la caja y luego puedes comenzar con una nueva caja.
It is important to decorate all the lids of the boxes and give each of them a purpose. This means that you can organize all your photos by theme or day/month or occasion.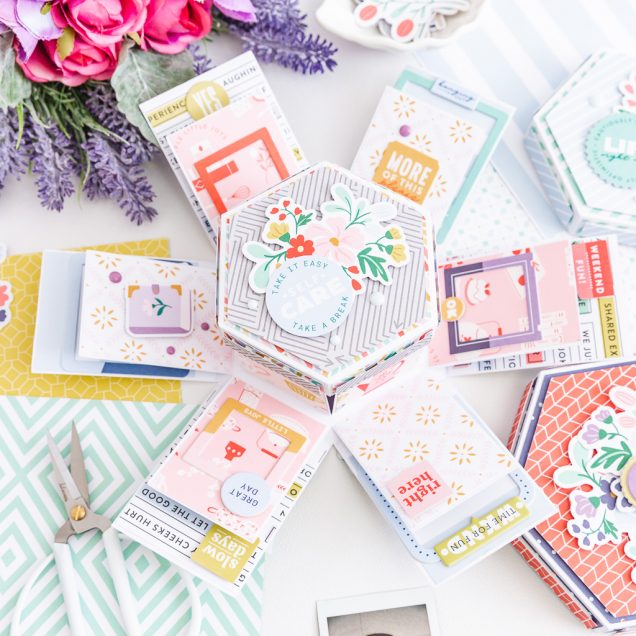 Es importante decorar todas las tapas de las cajas y darle a cada una de ellas un propósito o finalidad. Esto significa que puedes organizar todas tus fotos por tema o día/mes u ocasión.
Life Right Now Collection is perfect to document special moments of your life, your daily life, etc. Now I will show you in detail different pages (inner sides of the boxes). You can play with everything you have to decorate them.
La colección Life Right Now es perfecta para documentar momentos especiales de tu vida, la vida diaria, etc. Ahora les mostraré en detalle diferentes páginas (caras interiores de las cajas). Pueden jugar con todo lo que tengan para decorarlas.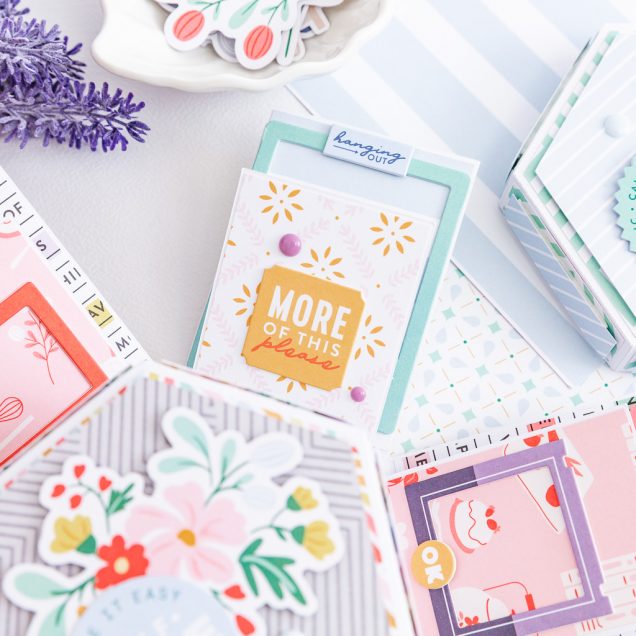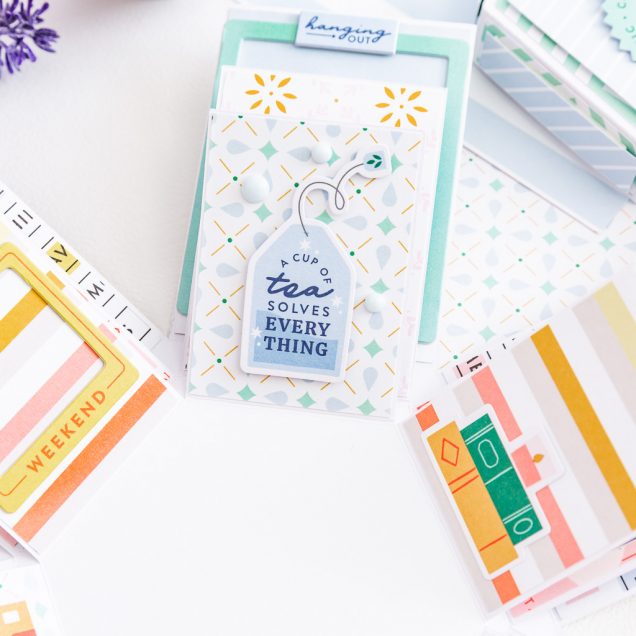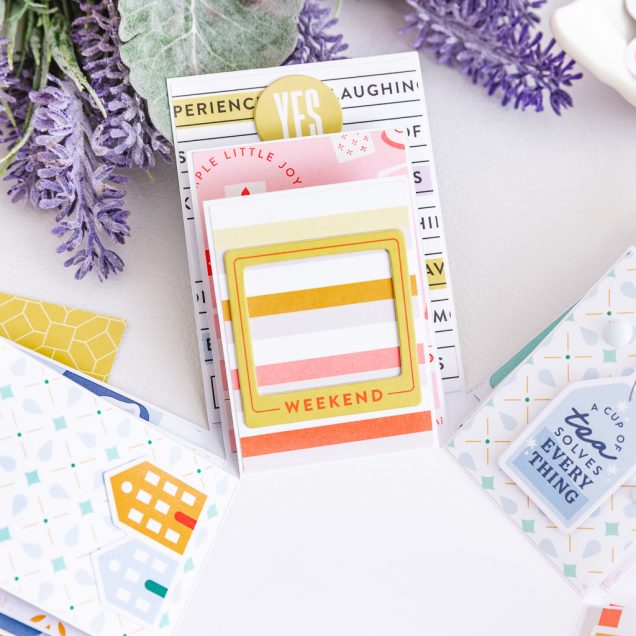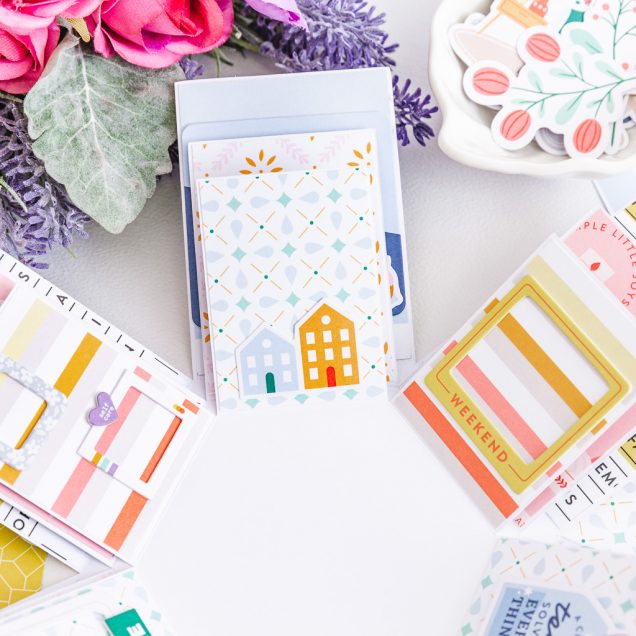 Once you have all the boxes ready, you can glue them one inside the other. See in detail all the lids… aren't they beautiful?
Una vez que tengas todas las cajas listas, puedes pegarlas una dentro de la otra. Mira en detalle las tapas… ¿no son hermosas?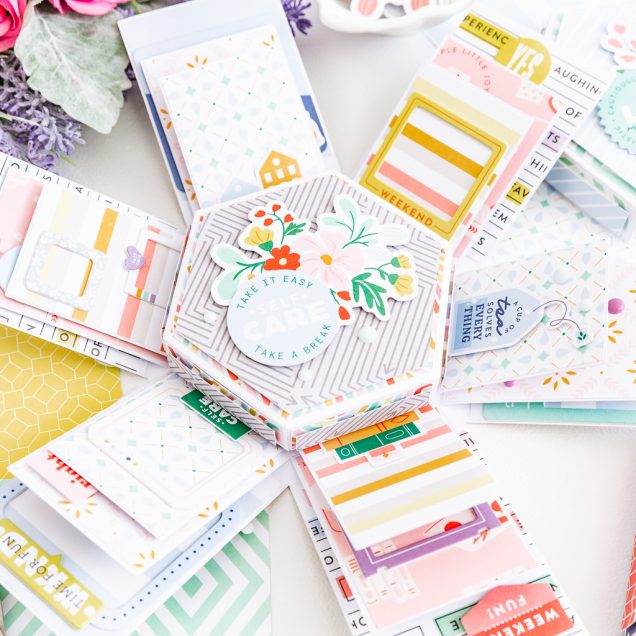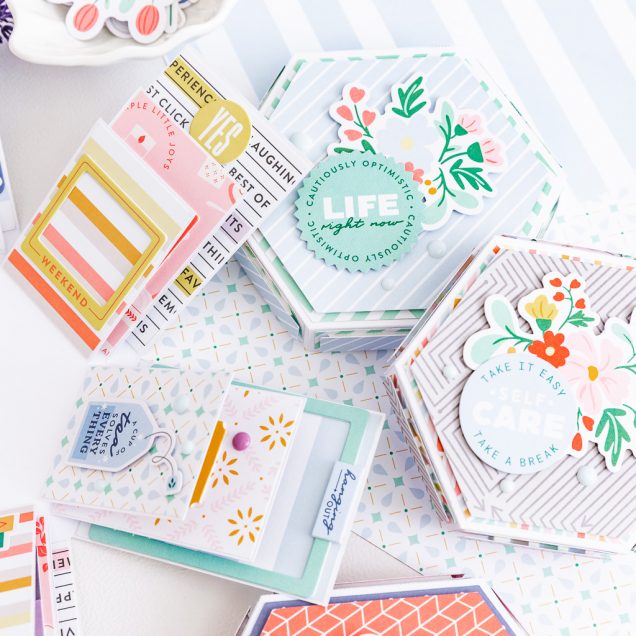 Giveaways / Obsequios
Pinkfresh Studio will be giving away the Happy Heart collection on the Pinkfresh blog & YouTube channel. Also Pinkfresh Studio is giving away a total of Ten $25 gift cards winners chosen from the blog hop. The winners will be chosen from the comments.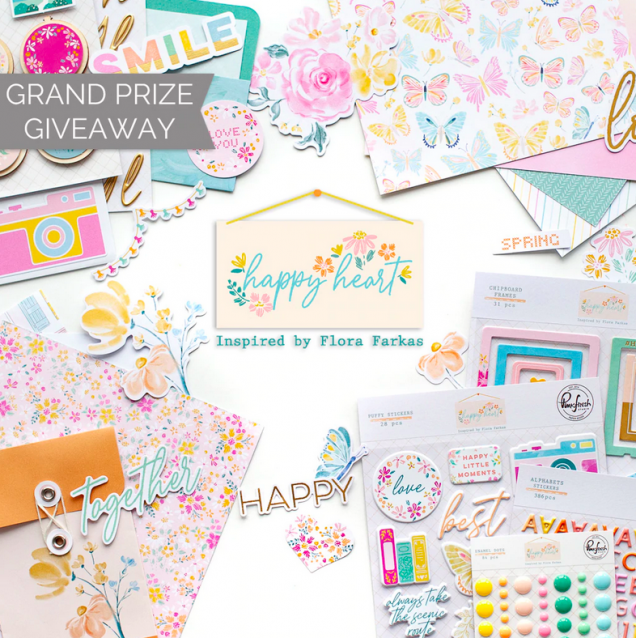 Pinkfresh Studio regalará la colección Happy Heart completa en su blog y canal de YouTube. Además, Pinkfresh Studio está regalando un total de diez tarjetas de regalo de $ 25 a los elegidos del blog hop. Los ganadores se elegirán a partir de los comentarios.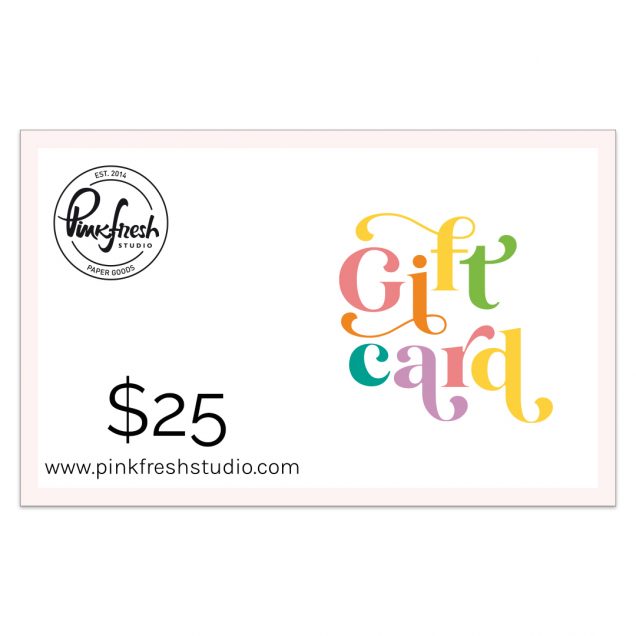 The winners will be announced on MARCH 30, 2022 on the Pinkfresh Studio Giveaway Page.
* Please check Giveaway Page within 2 weeks to claim the prize.
Los ganadores se anunciarán el 30 de MARZO de 2022 en la Giveaways Page de Pinkfresh Studio.
* Consulta la Giveaways Page en un plazo de 2 semanas para reclamar el premio.
Thank you so much for joining me for this blog hop. I hope you enjoyed it. See you next time! Good luck!
Muchas gracias por acompañarme en este blog hop. Espero que lo hayas disfrutado.¡Hasta la próxima! ¡Mucha suerte!