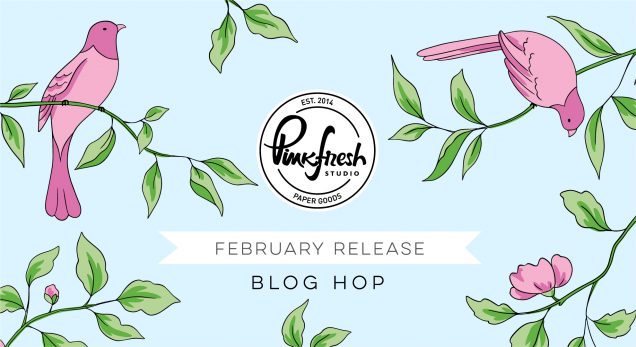 Hello lovely crafters! Happy Monday! Today we are having a very special day! It's release day! Thank you for joining me for the Pinkfresh Studio February Release Blog Hop! I feel so happy to be part of ti again! This time we have a lot of new products and I have to confess that I'm IN LOVE with ALL of them 🙂 Have you seen how beautiful is everything? And to celebrate Pinkfresh Studio's release, there is an amazing and fun blog hop today. I'm sure that you are going to love it!
¡Hola queridos crafters! ¡Feliz Lunes! ¡Hoy tenemos un día muy especial! ¡Es día de lanzamiento! Gracias por acompañarme en el lanzamiento de los nuevos «Productos de Febrero» de Pinkfresh Studio. En esta oportunidad tenemos muchos nuevos productos y debo confesar que estoy ENAMORADA de TODOS ellos 🙂 ¿Han visto lo hermoso que es todo? Y para celebrar el lanzamiento de Pinkfresh Studio, hoy tenemos un Blog Hop increíble y divertido. ¡Estoy segura que les va a encantar!
First of all! If you ended up here from Heather Hoffman's blog then you are on track 😉 To start the blog hop from the beginning you can go to Pinkfresh Studio blog. This is your final stop! You did it! 🙂
¡En primer lugar! Si estás aquí desde el blog de Heather Hoffman, entonces estás en el camino correcto 😉 Si quieres ver el Blog Hop desde el principio, puede ir directamente al blog de Pinkfresh Studio. ¡Esta es tu para final! ¡Lo hiciste! 🙂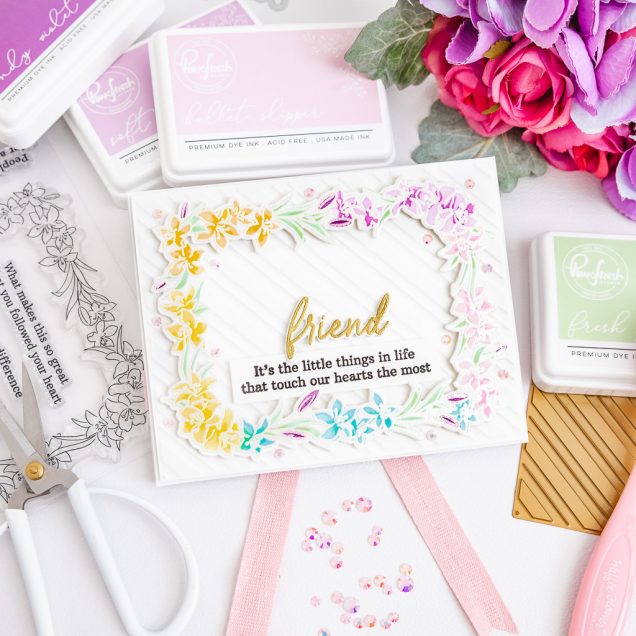 Let's get started with this blog hop! Don't you think is time to create together? For this Blog Hop I prepared a lovely and fun project. We are going to make an accordion mini album using the Lily Fram Set (Lily Frame Stamp, Lily Frame Layered Stencil, Lily Frame Die). We are going to use this set to prepare a beautiful cover for it 🙂
¡Comencemos con este blog hop! ¿No crees que es hora de crear juntos? Para este Blog Hop preparé un proyecto encantador y divertido. Vamos a hacer un mini album acordeón suando el Set Lily Frame (Sello Lily Frame, Layered Stencil Lily Frame, Troquel Lily Frame). Vamos a usar este set para preparar una portada preciosa para el mini album 🙂
Also, for my project I'll be using: the Diagonal Stripes Hot Foil Plate, the Essential Jewel Mix and some Dye Inks. And I attach below all the photos of this release so you can see them and choose all your favorite ones 🙂
Además, para mi proyecto usaré: el Diagonal Stripes Hot Foil Plate, el Essential Jewel Mix y algunas Dye Inks. Y les adjunto a continuación todas las fotos de los nuevos productos de este lanzamiento para que puedan verlos y elegir todos sus favoritos 🙂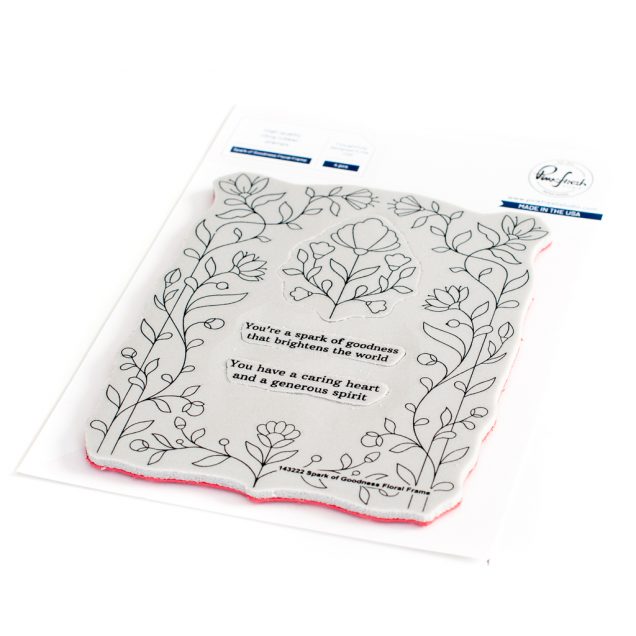 To prepare the cover of my mini album first thing to do was to emboss the base paper. For that I decided to use the Diagonal Stripes Hot Foil Plate. I loved the result! It looks so good! And for the structure of the mini album I cut a paper of 31 1/2″ w x 5 3/4″ h (score and fold every 4 1/2″ w). In case you are using 12×12 papers, cut as many pieces as you need to form the structure.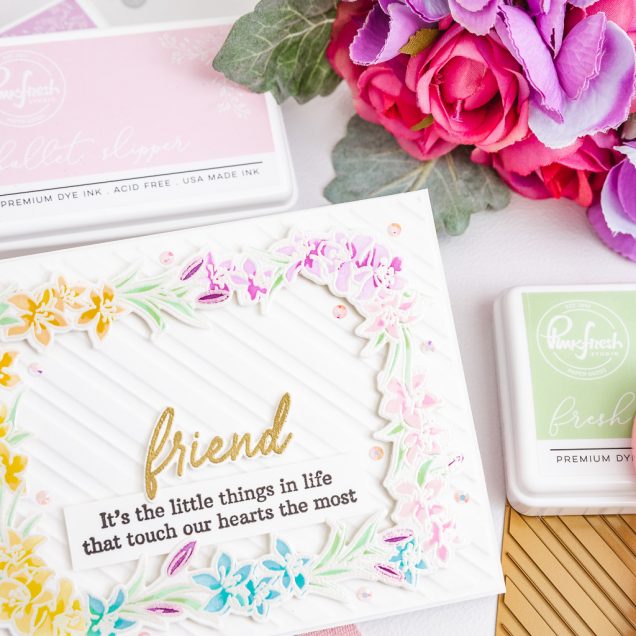 Para preparar la portada de mi mini album lo primero que hay que hacer es embosar el papel base. Para ello decidí usar el Diagonal Stripes Hot Foil Plate. ¡Amé el resultado! ¡Se ve tan bien! Y para la estructura del mini album corté un papel de 31 1/2″ ancho x 5 3/4″ alto (marca y pliega cada 4 1/2″ ancho). En caso de que uses papeles de 12×12, corta tantas piezas como necesites para formar la estructura.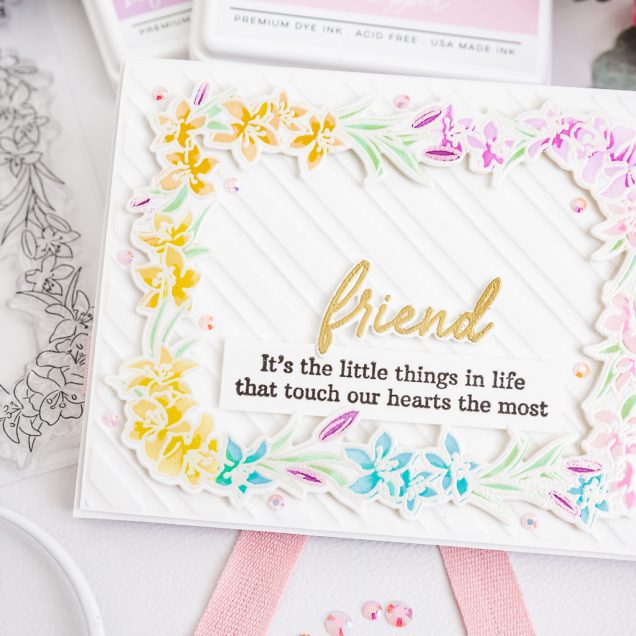 Next, I stamped the Lily Frame Stamp with embossing ink and used white embossing powder. After that… my favorite part… playing with the amazing Dye Inks of Prinfresh Studio and the Lily Frame Layered Stencil. You can combine as may colors as you like. Remember to use the Lily Frame Die when you are finished.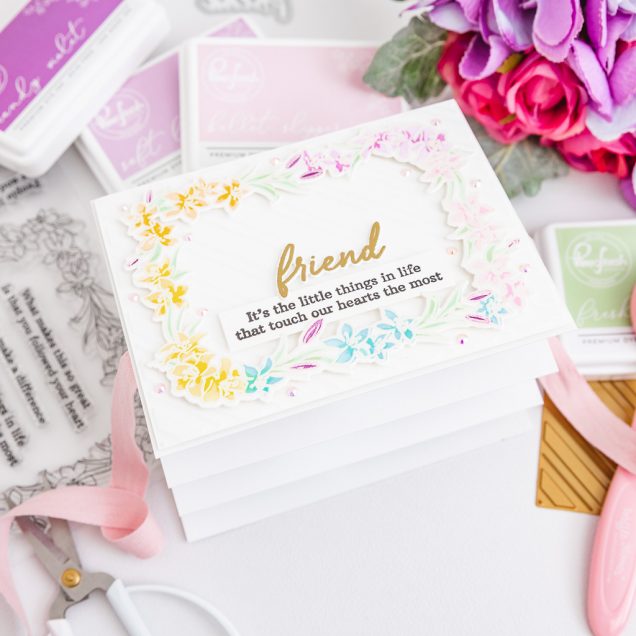 A continuación, estampé el Sello Lily Frame con tinta de repujado y usé polvo de repujado blanco. Después de eso… mi parte favorita… jugar con las increíbles Tintas Dye de Prinfresh Studio y el Layered Stencil Lily Frame. Puedes combinar tantos colores como quieras. Recuerda usar el Troquel Lily Frame cuando hayas terminado.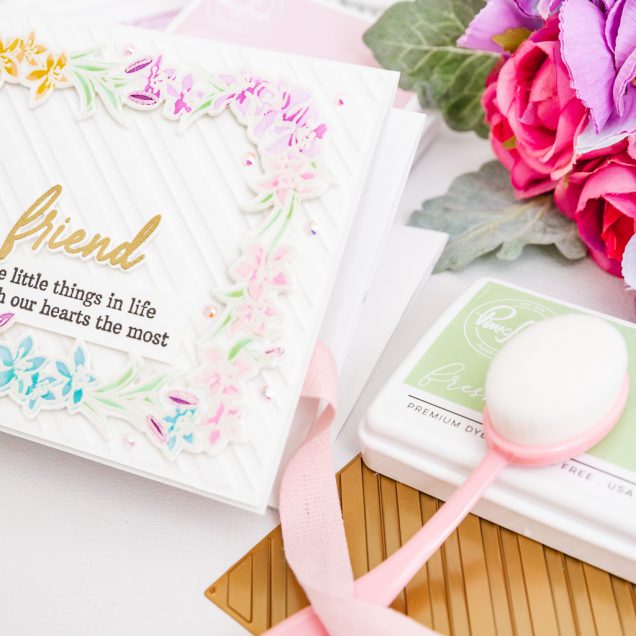 Once you have these two pieces, paste the embossed paper and the Lily Frame with 3d foam. Also added extra details using the Lily Frame Stamp. I chose the word "Friend" and one of the phrases. I stamped one with black ink and one with embossing powder.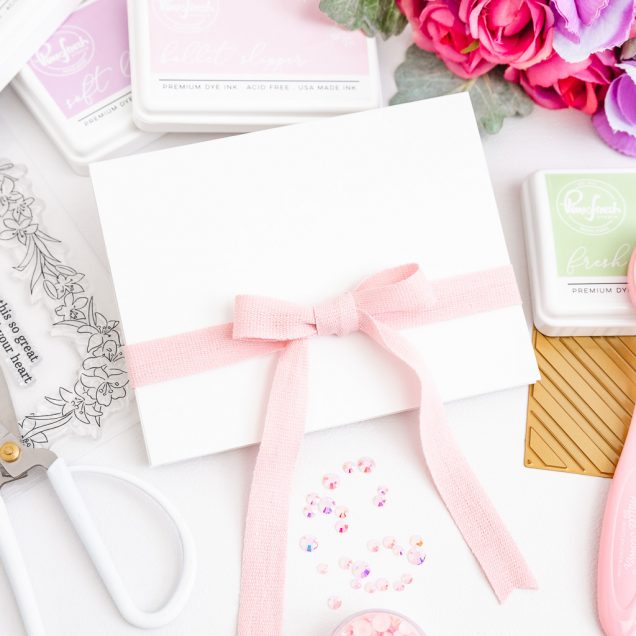 Cuando ya tienes estas dos piezas, pega el papel embosado y el marco Lily con foam 3D. También añadí detalles extras usando el Sello Lily Frame. Elegí la palabra "Amig@" y una de las frases. Estampé uno con tinta negra y otro con polvo de embossing.
Final details! A ribbon to close the mini album behind and some lovely jewels from the Essential Jewel Mix . You just have to decorate it with photos and desing paper 😉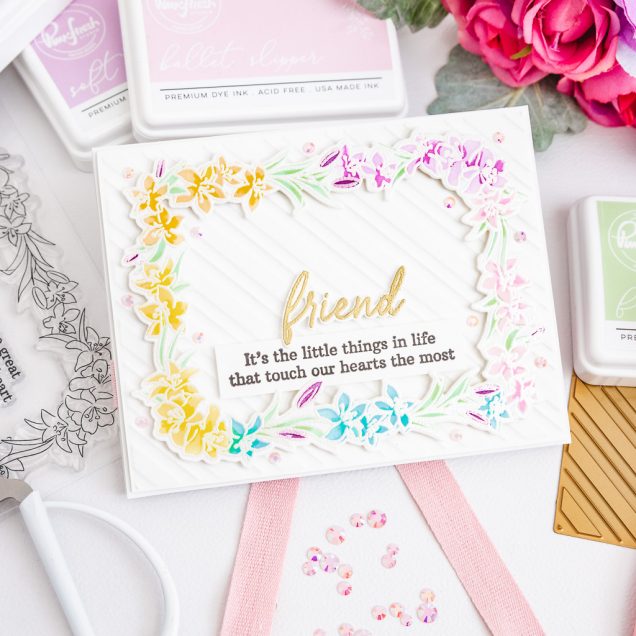 ¡Detalles finales! Una cinta para cerrar el mini album por detrás y unas preciosas jewels del Essential Jewel Mix . Sólo te queda decorarlos con fotos y papeles de diseño 😉
Giveaways / Obsequios
Pinkfresh Studio will be giving away the full release on the Pinkfresh blog & YouTube channel. Also Pinkfresh Studio is giving away a total of Ten $25 gift cards winners chosen from the blog hop. The winners will be chosen from the comments.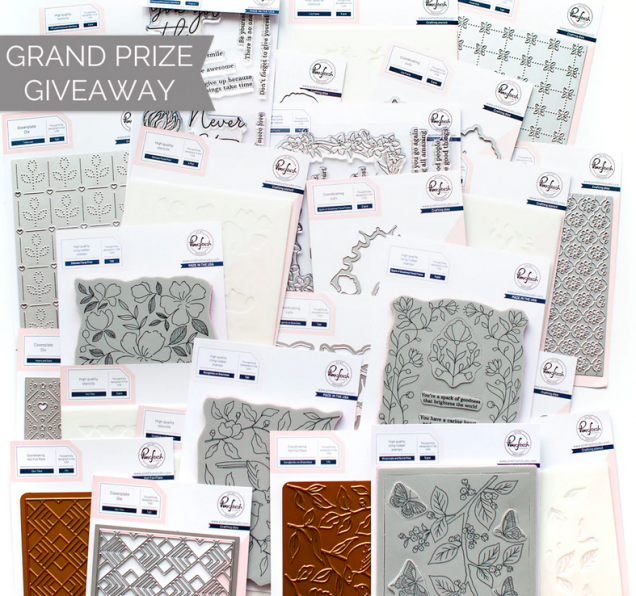 Pinkfresh Studio regalará el lanzamiento completo en su blog y canal de YouTube. Además, Pinkfresh Studio está regalando un total de diez tarjetas de regalo de $ 25 a los elegidos del blog hop. Los ganadores se elegirán a partir de los comentarios.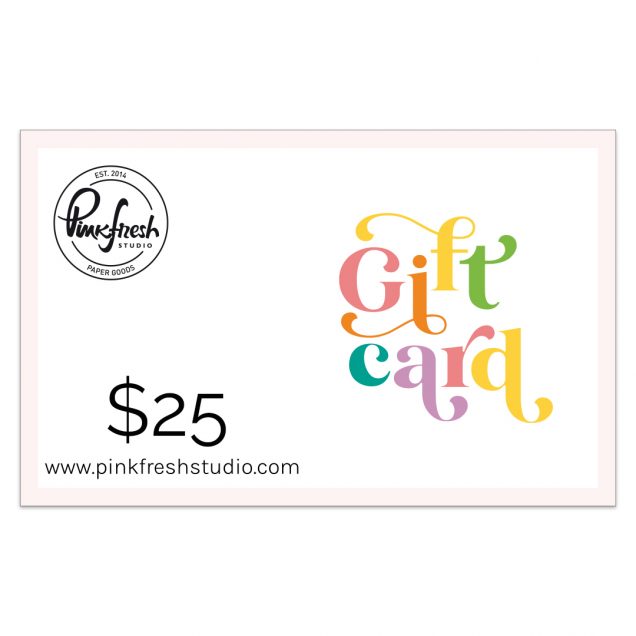 The winners will be announced on MARCH 8, 2022 on the Pinkfresh Studio Giveaway Page.
* Please check Giveaway Page within 2 weeks to claim the prize.
Los ganadores se anunciarán el 8 de MARZO de 2022 en la Giveaways Page de Pinkfresh Studio.
* Consulta la Giveaways Page en un plazo de 2 semanas para reclamar el premio.
Thank you so much for joining me for this blog hop. I hope you enjoyed it. See you next time! Good luck! 😉
Muchas gracias por acompañarme en este blog hop. Espero que lo hayas disfrutado.¡Hasta la próxima! ¡Mucha suerte! 😉