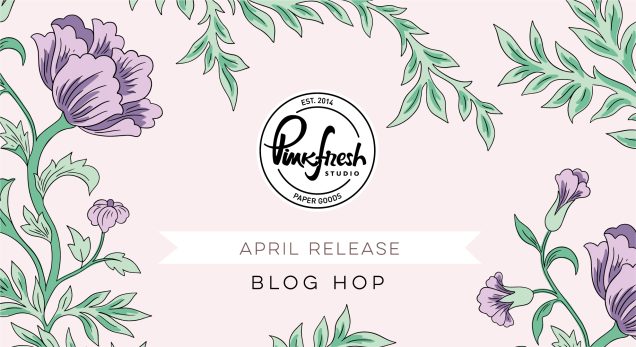 Hello Pinkfresh Studio's fans! Happy Friday everyone! Today is a special day… We have a new release! Thank you for joining me for the Pinkfresh Studio April 2022 Release Blog Hop! I'm super excited to be part of it again and to have the chance to show you the new products because, as always, they are AMAZING! I'm in LOVE with the new hot foil plate sets, the coverplate dies and all flower sets. To celebrate Pinkfresh Studio's release, there is a lovely blog hop today. I'm sure that you are going to love it and you are going to fall in love as me!
¡Hola fans de Pinkfresh Studio! ¡Feliz Viernes a todos! Hoy es un día muy especial… ¡Tenemos nuevo lanzamiento! ¡Gracias por acompañarme en el Blog Hop lanzamiento de los «Productos de Abril 2022» de Pinkfresh Studio! Estoy súper emocionada de ser parte nuevamente y de tener la oportunidad de mostrarles los nuevos productos porque, como siempre, ¡son INCREÍBLES! Estoy ENAMORADA de los sets de hot foil, de los los troqueles de fondo y todos los sets de flores. Para celebrar el lanzamiento de Pinkfresh Studio, hoy hay un hermoso blog hop. ¡Seguro que les va a encantar y se van a enamorar enamorar como yo!
First of all! If you ended up here from Carly Minner's blog then you are on track. Your next stop is Channin Pelletier's blog. To start the blog hop from the beginning you can go to Pinkfresh Studio blog. Have fun and discover the beauties that my teammates have made for you for this lovely release!
¡Primero que nada! Si estás aquí desde el blog de Carly Minner, entonces estás en el camino correcto. Tu próxima parada es el blog de Channin Pelletier. Si quieres ver el Blog Hop desde el principio, puede ir directamente al blog de Pinkfresh Studio. ¡Diviértete y descubre las bellezas que mis compañeras de equipo han hecho para tí para este maravilloso lanzamiento!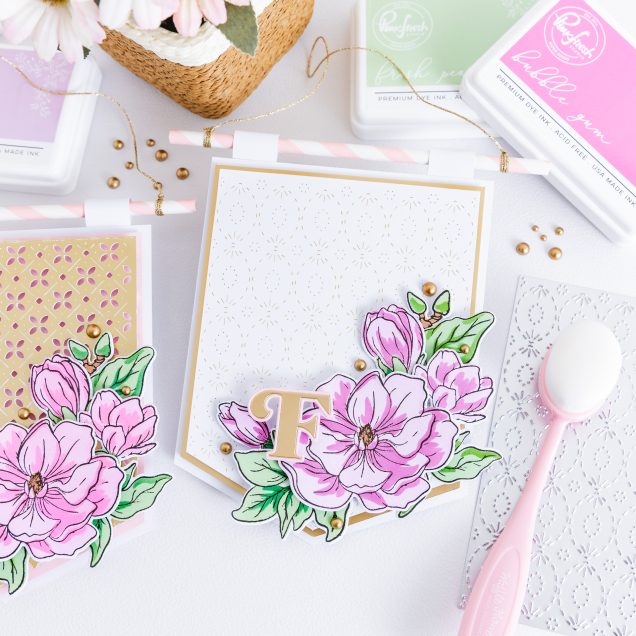 Let's get started with this lovely blog hop! For this Blog Hop I prepared a delicate and sweet project to decorate our special corners and/or to give as gifts. I prepared small monogram banners using the Magnolia Set (Magnolia Stamp, Magnolia Stencil and Magnolia Die) and the Floral & Diamond Tiles Die and the Intrincate Stitched Ovals Die.
¡Comencemos con este blog hop! Para este Blog Hop preparé un proyecto muy delicado y dulce para decorar nuestros rincones especiales y/o para regalar. Preparé unos banner monograma pequeños usando el Set Magnolia (Magnolia Stamp, Magnolia Stencil y Magnolia Die) y el troquel Floral & Diamond Tiles junto al troquel Intrincate Stitched Ovals.
Also, for my project I used: the Lea's Ornate Uppercase Dies and the Solid Hot Foil Plate. And I attach below all the photos of this release so you can see them and choose all your favorite ones 🙂
Además, para mi proyecto usé: el troquel Lea's Ornate Uppercase Dies y Solid Hot Foil Plate. Y les adjunto a continuación todas las fotos de los nuevos productos de este lanzamiento para que puedan verlos y elegir todos sus favoritos 🙂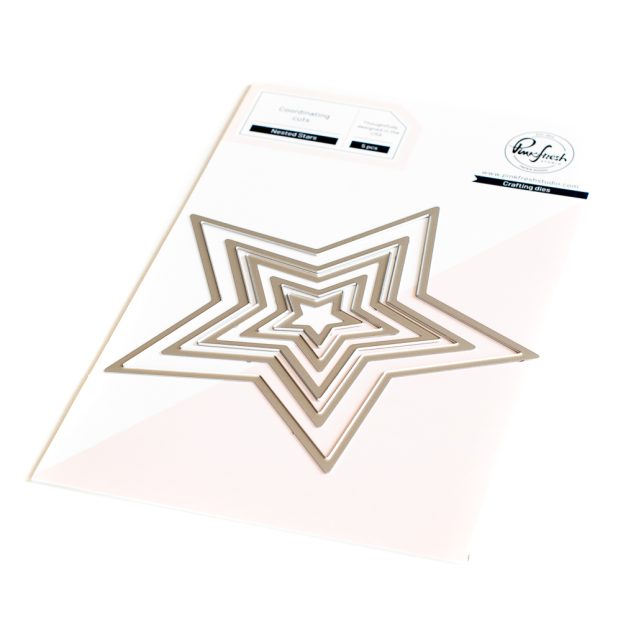 To prepare the monogram banners first thing to do is to prepare the flowers and the background of the banners. Also have paper straws, gold thread and 3D foam on hand. The flower set that I used was the Magnolia Set (Magnolia Stamp, Magnolia Stencil and Magnolia Die). I prepared the flowers in different color ink combinations.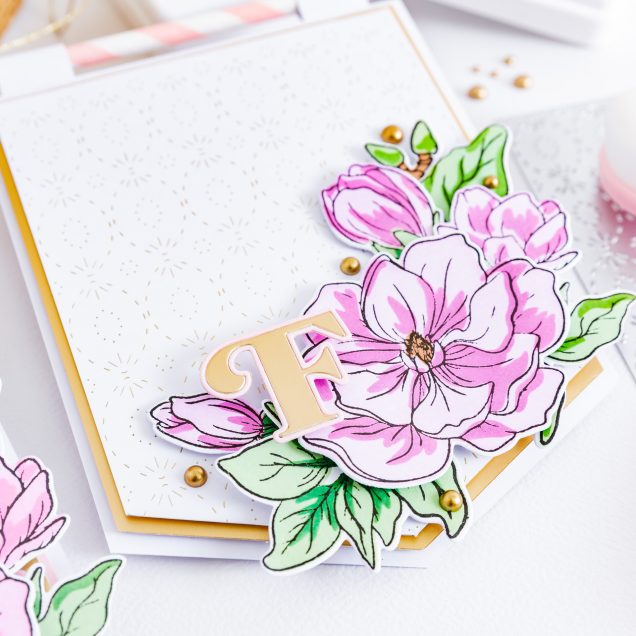 Para preparar las banners monograma, lo primero que hay que hacer es preparar las flores y el fondo. También tengan a mano sorbetes de papel, hilo dorado y foam 3D. El set de flores que utilicé fue el Magnolia Set (Magnolia Stamp, Magnolia Stencil y Magnolia Die). Preparé las flores en diferentes combinaciones de tintas de colores.
Next, we need to prepare the backgrounds using the coverplates. We can use the positive and the negative of them. But, as you can see, I prepared them in two different ways: 1- using the Solid Hot Foil Plate as usual (with the piece of paper previously die-cut with the coverplate) and 2- using the Floral & Diamond Tiles Die and the Intrincate Stitched Ovals Die with my hot foil system.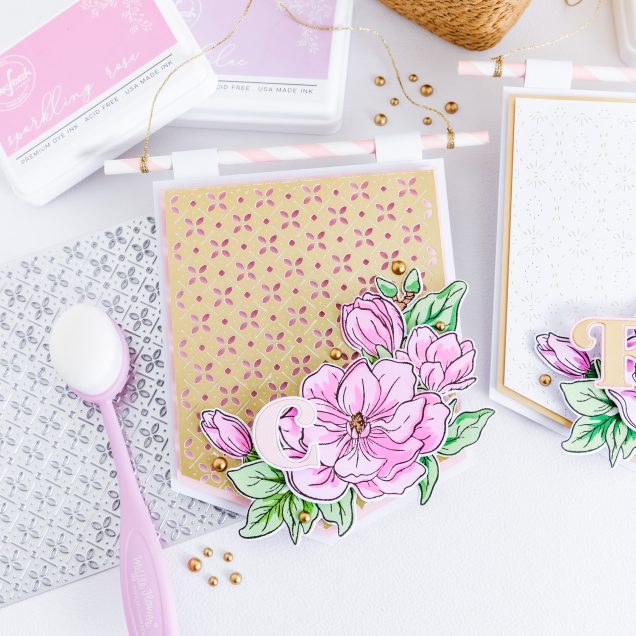 A continuación, debemos preparar los fondos utilizando los troqueles coverplate. Podemos usar el positivo y el negativo de ellos. Pero, como pueden ver, los preparé de dos formas diferentes: 1- usando el Solid Hot Foil Plate como de costumbre (con el trozo de papel troquelado previamente con el coverplate) y 2- usando el Troquel Floral & Diamond Tiles y el troquel Intrincate Stitched Ovals directamente con mi sistema de hot foil.
Choose your letters from the Lea's Ornate Uppercase Dies and prepared them in two paper colors. Also, if you like, you can use the hot foil technique wiht them. Cut two pieces of papers (bigger than the hot foiled piece) and give them the form of a banner. The smaller piece woill be the hot foiled piece. Add all the pieces in layers using 3D foam. You will do the same with the flower pieces from the Magnolia Set. As a final details add some Metallic Pearls: Matte Gold and you letter.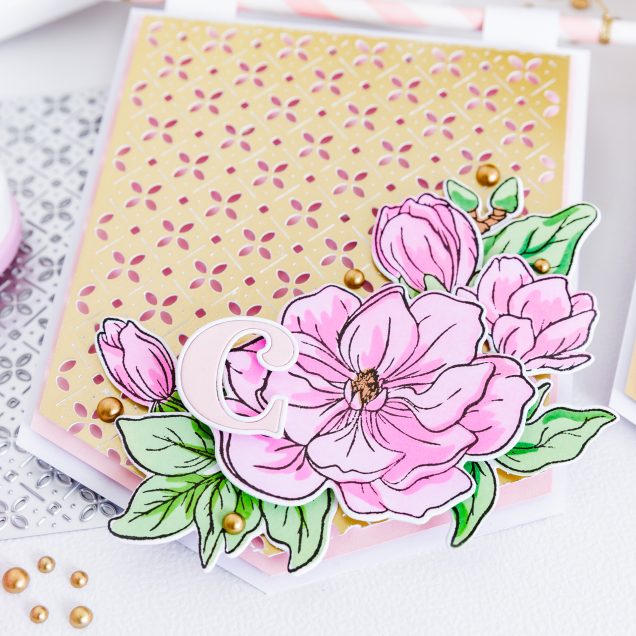 Elige tus letras de Lea's Ornate Uppercase Dies y prepáralas en dos colores de papel. Además, si te apetece, puedes utilizar con ellos la técnica del hot foil. Corta dos hojas de papel (más grandes que la pieza preparada con la técnica de hot foil) y dales la forma de una banner. La pieza más pequeña será la pieza laminada en caliente. Une todas las piezas en capas usando foam 3D. Harás lo mismo con las piezas de flores del Set Magnolia. Como detalles finales añade unas Metallic Pearls: Matte Gold y tu letra.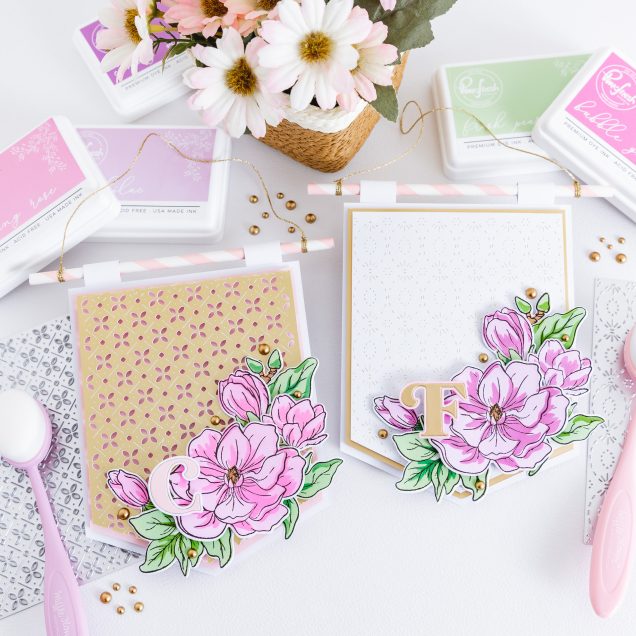 Finally, we only have to add the paper straw and the gold thread to our design.
Finalmente, sólo nos queda añadir el sorbete de papel y el hilo dorado a nuestro diseño.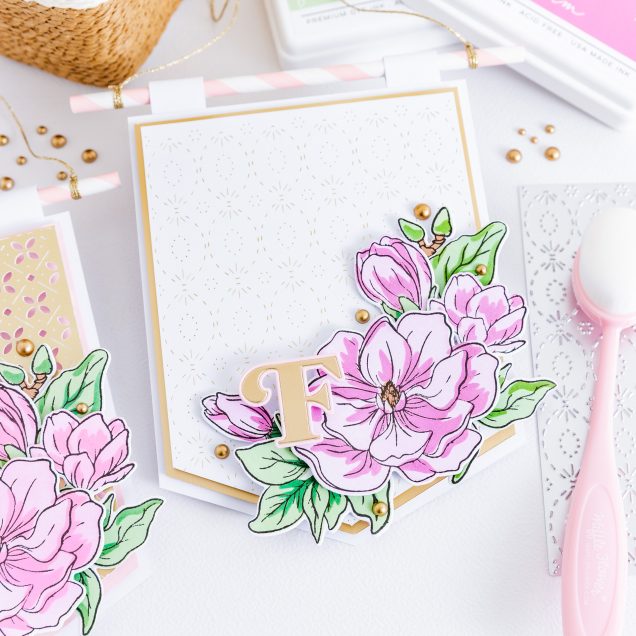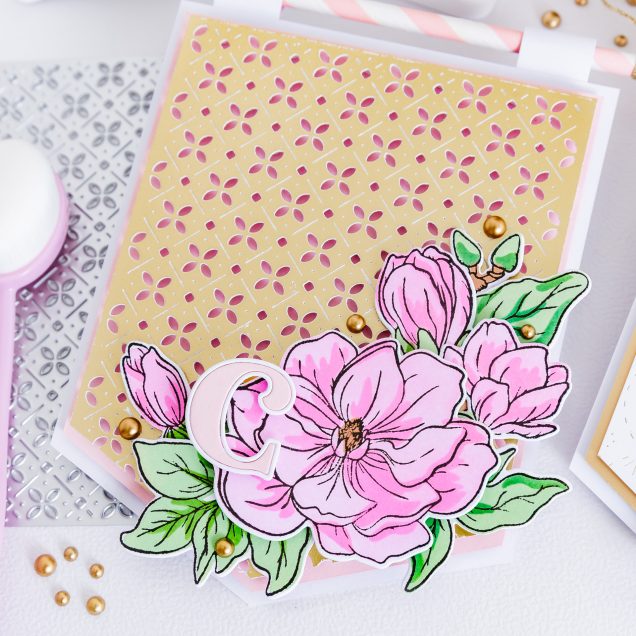 Giveaways / Obsequios
Pinkfresh Studio will be giving away the full release on the Pinkfresh blog & YouTube channel. Also Pinkfresh Studio is giving away a total of Ten $25 gift cards winners chosen from the blog hop. The winners will be chosen from the comments
Pinkfresh Studio regalará el lanzamiento completo en su blog y canal de YouTube. Además, Pinkfresh Studio está regalando un total de diez tarjetas de regalo de $ 25 a los elegidos del blog hop. Los ganadores se elegirán a partir de los comentarios.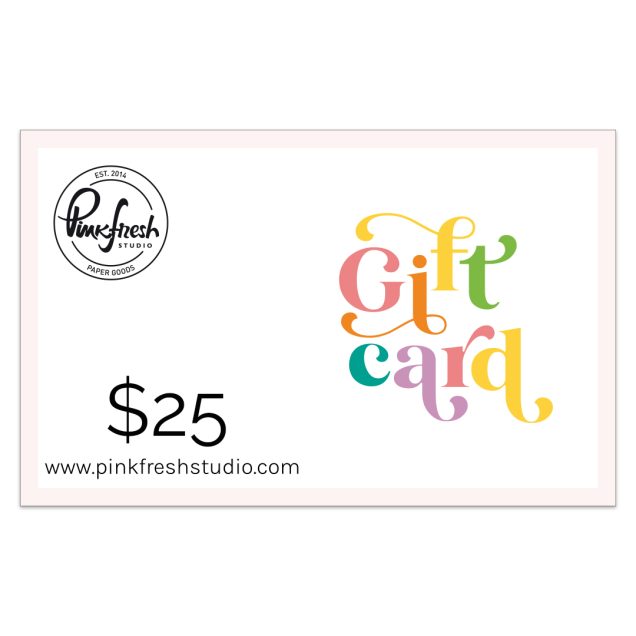 he winners will be announced on MAY 10, 2022 on the Pinkfresh Studio Giveaway Page.
* Please check Giveaway Page within 2 weeks to claim the prize.
Los ganadores se anunciarán el 10 de MAYO de 2022 en la Giveaways Page de Pinkfresh Studio.
* Consulta la Giveaways Page en un plazo de 2 semanas para reclamar el premio.
Thank you for joining me for this blog hop 😉 See you next time! Good luck!
Muchas gracias por acompañarme en este blog hop 😉 ¡Hasta la próxima! ¡Mucha suerte!