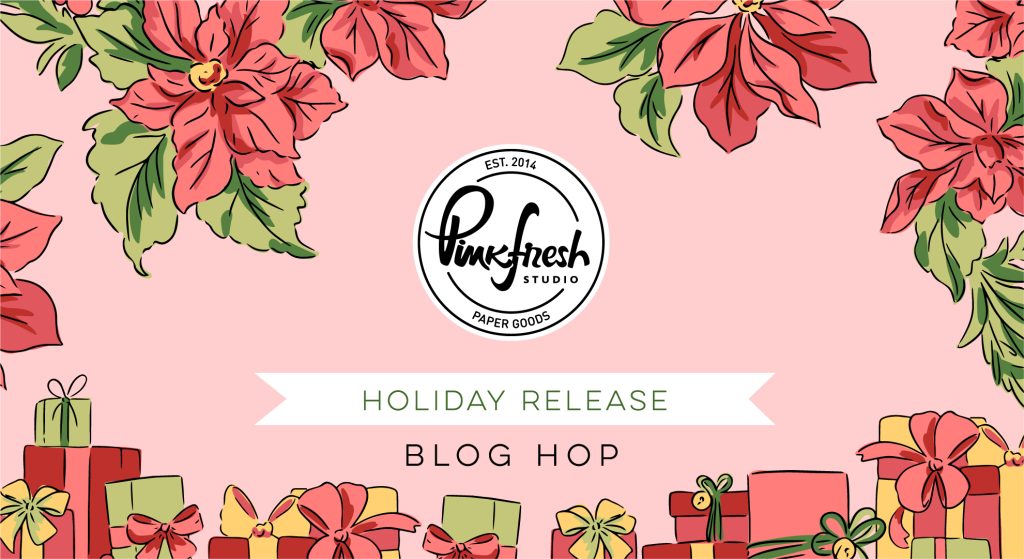 Hi Pinkfresh Studio's fans! Happy Monday! Today is the most special day of the month! It's release day! Thank you for joining me for the new Pinkfresh Studio September 2022 Release Blog Hop! I'm so happy to have the chance to be part of it again and to have the chance to show you the new products because they are AMAZING! And… Christimas is coming! Yes! It's the most wonderful time of the year… I'm so in LOVE with this release! To celebrate Pinkfresh Studio's release, there is a blog hop today. You are going to love it and you are going to fall in love as me! Let's get started!
¡Hola fans de Pinkfresh Studio! ¡Muy feliz lunes a todos! ¡Hoy es día más especial del mes! ¡Es día de lanzamiento ¡Gracias por acompañarme en el nuevo Blog Hop lanzamiento de los «Productos de Septiembre 2022» de Pinkfresh Studio! ¡Estoy tan feliz de tener la oportunidad de ser parte de este lanzamiento nuevamente y de tener la oportunidad de mostrarles los nuevos productos porque son INCREÍBLES! Y… ¡Se acerca la Navidad! ¡Sí! It's the most wonderful time of the year… ¡Estoy tan ENAMORADA de este lanzamiento! Para celebrar el lanzamiento de Pinkfresh Studio, hoy hay un blog hop. ¡Te va a encantar y te vas a enamorar como a yo! ¡Empecemos!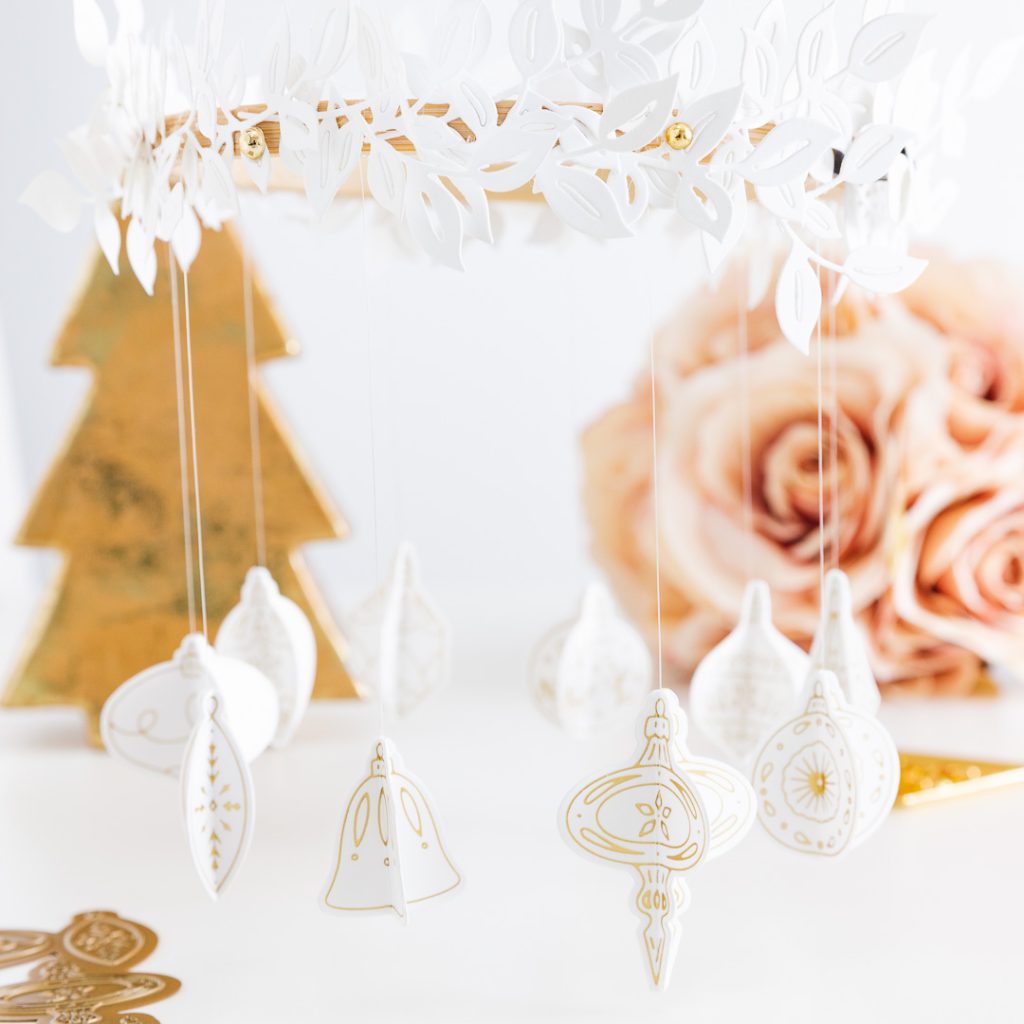 First of all! If you ended up here from Clarissa Wiley's blog then you are on track. Your next stop is Channin Pelletier's blog. To start the blog hop from the beginning you can go to Pinkfresh Studio blog. Have fun and discover the beauties that my teammates have made for you for this release!
¡Primero que nada! Si estás aquí desde el blog de Clarissa Wiley, entonces estás en el camino correcto. Tu próxima parada es el blog de Channin Pelletier. Si quieres ver el Blog Hop desde el principio, puede ir directamente al blog de Pinkfresh Studio. ¡Diviértete y descubre las bellezas que mis compañeras de equipo han hecho para tí para este lanzamiento!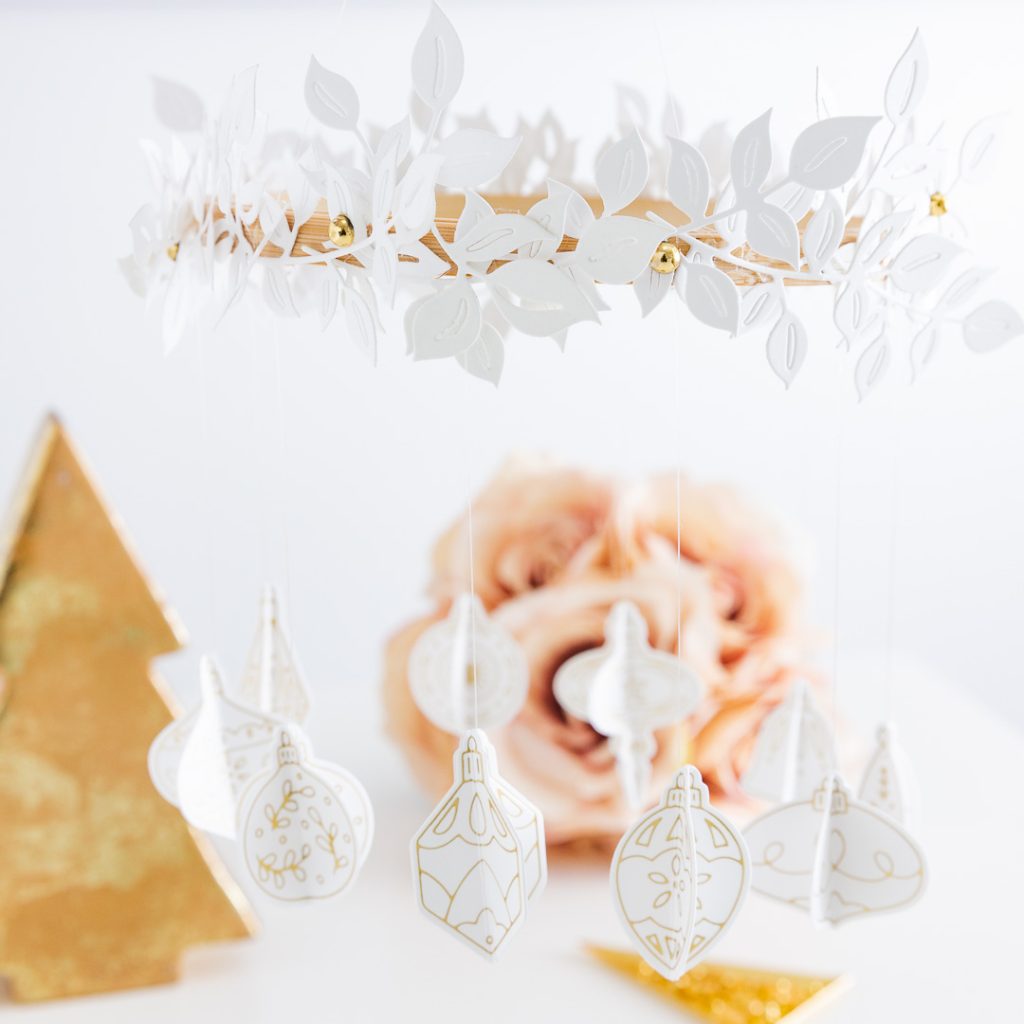 Let's get started with this blog hop! For this opportunity I prepared a delicate and creative Monochromatic Christmas Mobile. I love Christmas and I couldn't help but start with it! This year I want to decorate my home in white and gold so I decided to make this first idea with monochrome style. I used the some items from the Ornaments Set (Ornaments Hot Foil Plate and Ornaments Die).
¡Comencemos con este blog hop! Para este Blog Hop preparé un delicado y creativo Móvil Navideño Monocromático. ¡Me encanta la Navidad y no pude evitar empezar con ella! Este año quiero decorar mi casa en blanco y dorado así que decidí hacer esta primera idea con estilo monocromático. Usé el set Ornaments (Ornaments Hot Foil Plate y Ornaments Die).
I also added to my project the Curvy Leaves Die Set. And I attach below all the photos of this release so you can see them and choose all your favorite ones.
También agregué a mi proyecto el set de troqueles Curvy Leaves.Y les adjunto a continuación todas las fotos de los nuevos productos de este lanzamiento para que puedan verlos y elegir todos sus favoritos.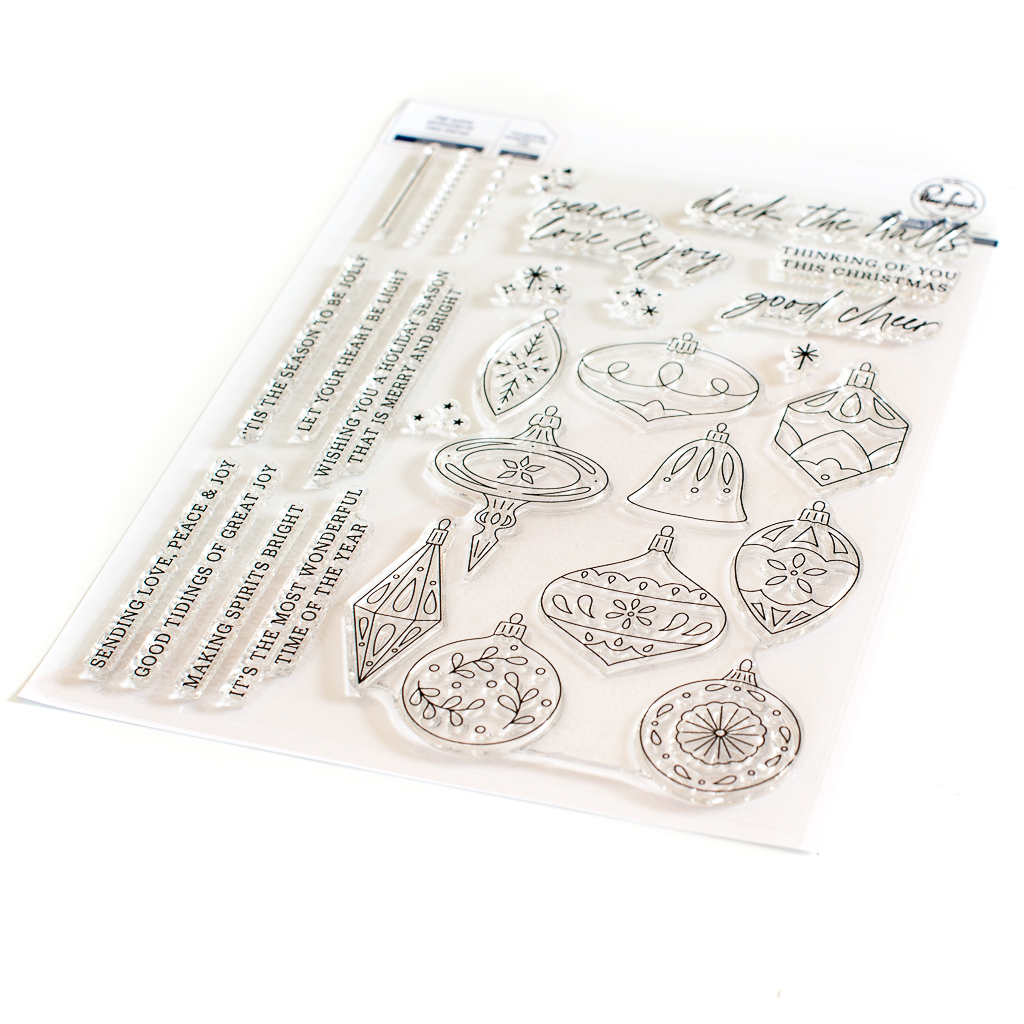 To prepare this project first thing to do is to prepare the ornaments. I loved to use the Ornaments Hot Foil Plate. They are soooo beautiful. I prepared 4 pieces of it. Also, I used the Glimmer Hot Foil Roll – Matte Gold and white cardstock to make them. They look gorgeous! The detail of the matte gold color is amazing!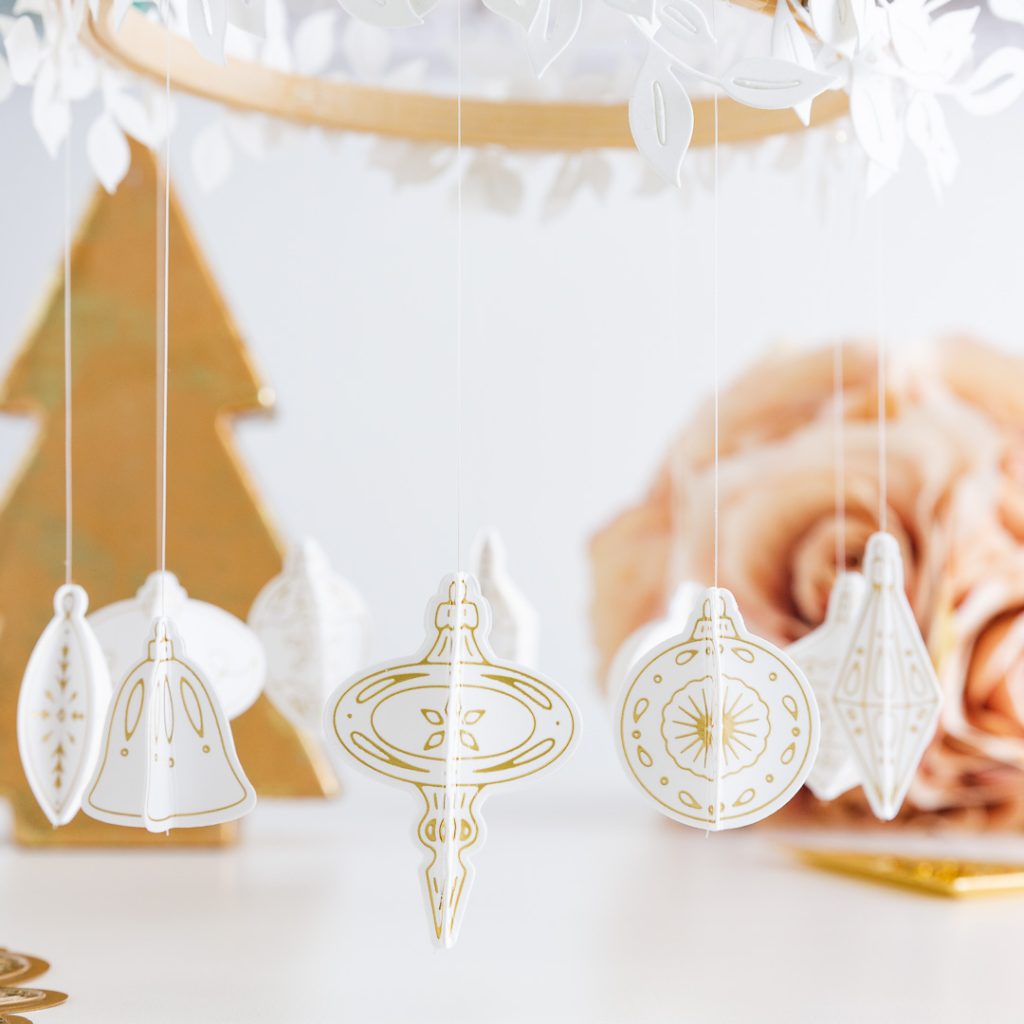 Para preparar este proyecto lo primero que hay que hacer es preparar los adornos. Me encantó usar el Ornaments Hot Foil Plate. Son tan hermosos. Preparé 4 piezas. Además, usé el Glimmer Hot Foil Roll – Matte Gold y cardstock blanco para hacerlos. ¡Se ven hermosos! ¡El detalle del color dorado mate es increíble!
Next, we need to assemble the three-dimensional pieces. First we will glue three pieces together to be able to add the rigid string (I used one for jewelry) to the center (and inside) to be able to assemble the mobile.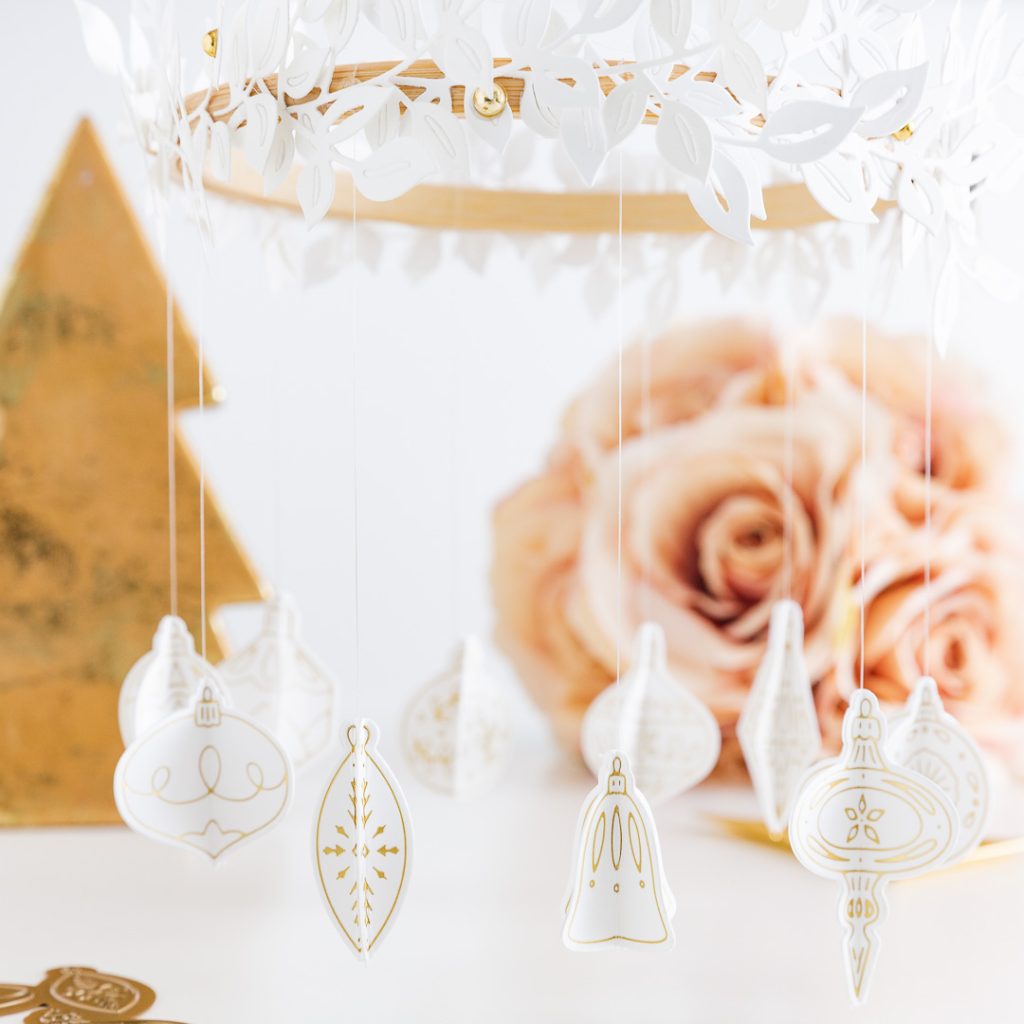 A continuación, necesitamos ensamblar las piezas tridimensionales. Primero pegaremos tres piezas juntas para poder añadir tanza rígida (yo usé una para bisutería) al centro (y por dentro) para poder montar el móvil.
To glue the string inside the piece I used the hot glue gun. Then, once it cools down, we can glue the fourth piece. This way we will have all the pieces ready to assemble the mobile. Remember to leave a good amount of extra string when assembling the pieces since we will need it to assemble the mobile.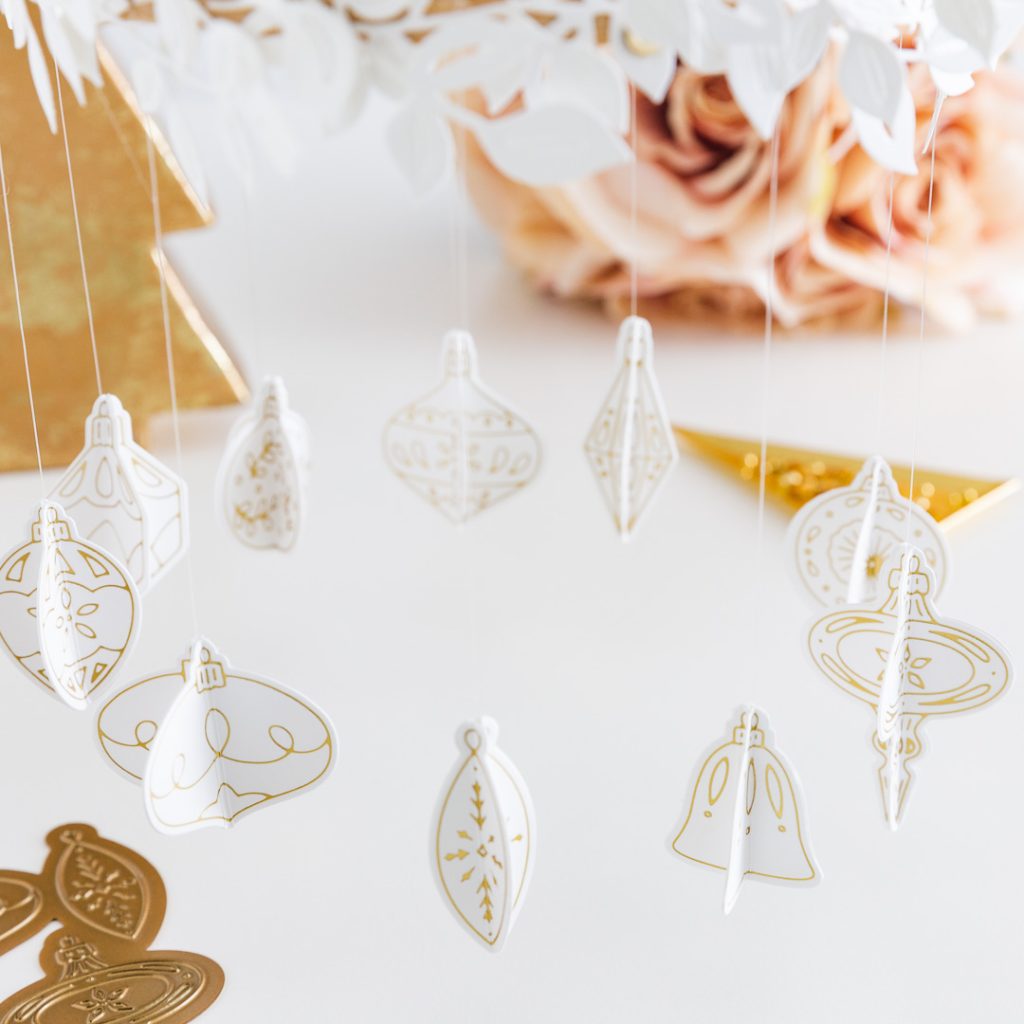 Para pegar la tanza dentro de la pieza usé la pistola de silicona caliente. Luego, una vez que se enfría, podemos pegar la cuarta pieza. Así tendremos todas las piezas listas para montar el móvil. Recuerda dejar una buena cantidad de tanza extra al armar las piezas ya que la necesitaremos para armar el móvil.
To assemble the mobile I used a 6″ diameter embroidery hoop. We need to pass the strips of all the pieces, close it and leave it level. Add a wooden ring for hanging.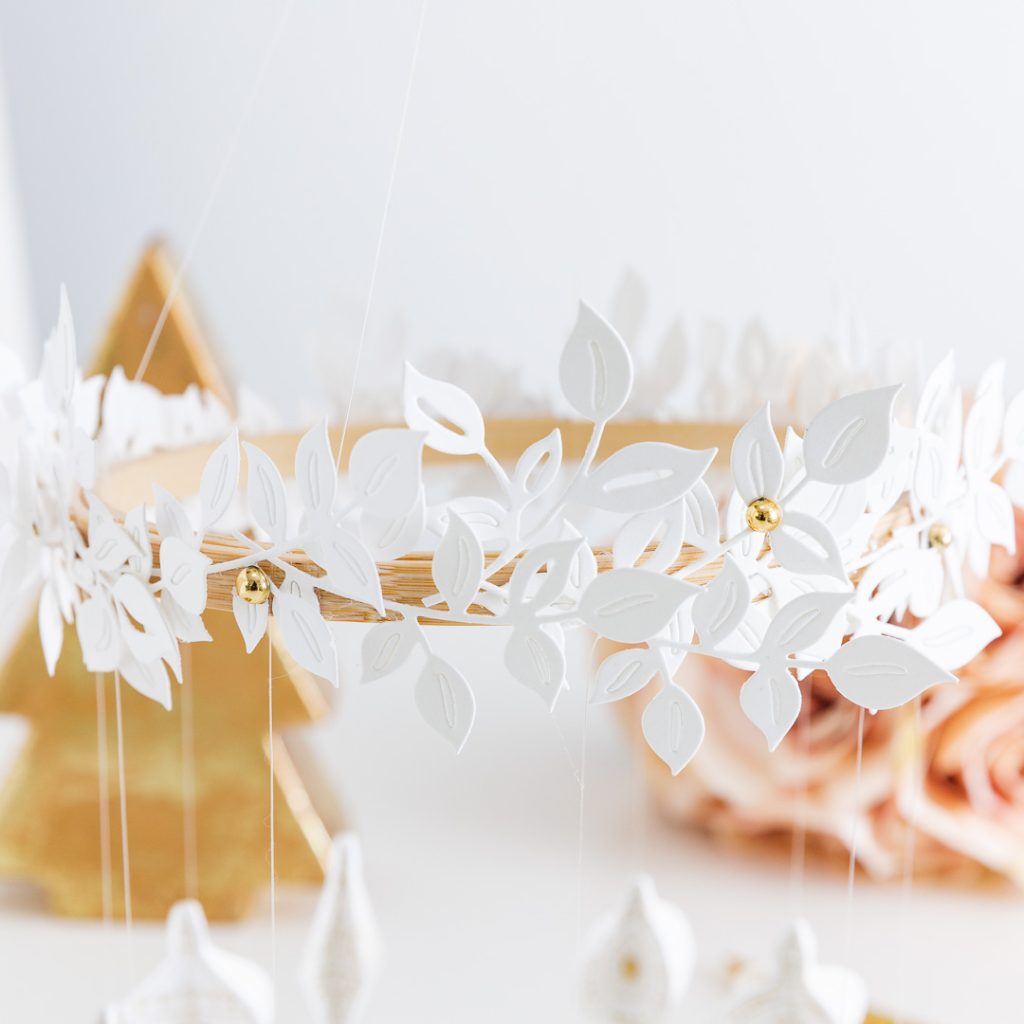 Para armar el móvil usé un bastidor de bordado de 6″ de diámetro. Necesitamos pasar las tiras de todas las piezas, cerrarlo y dejarlo nivelado. Agrega una anilla de madera para colgar.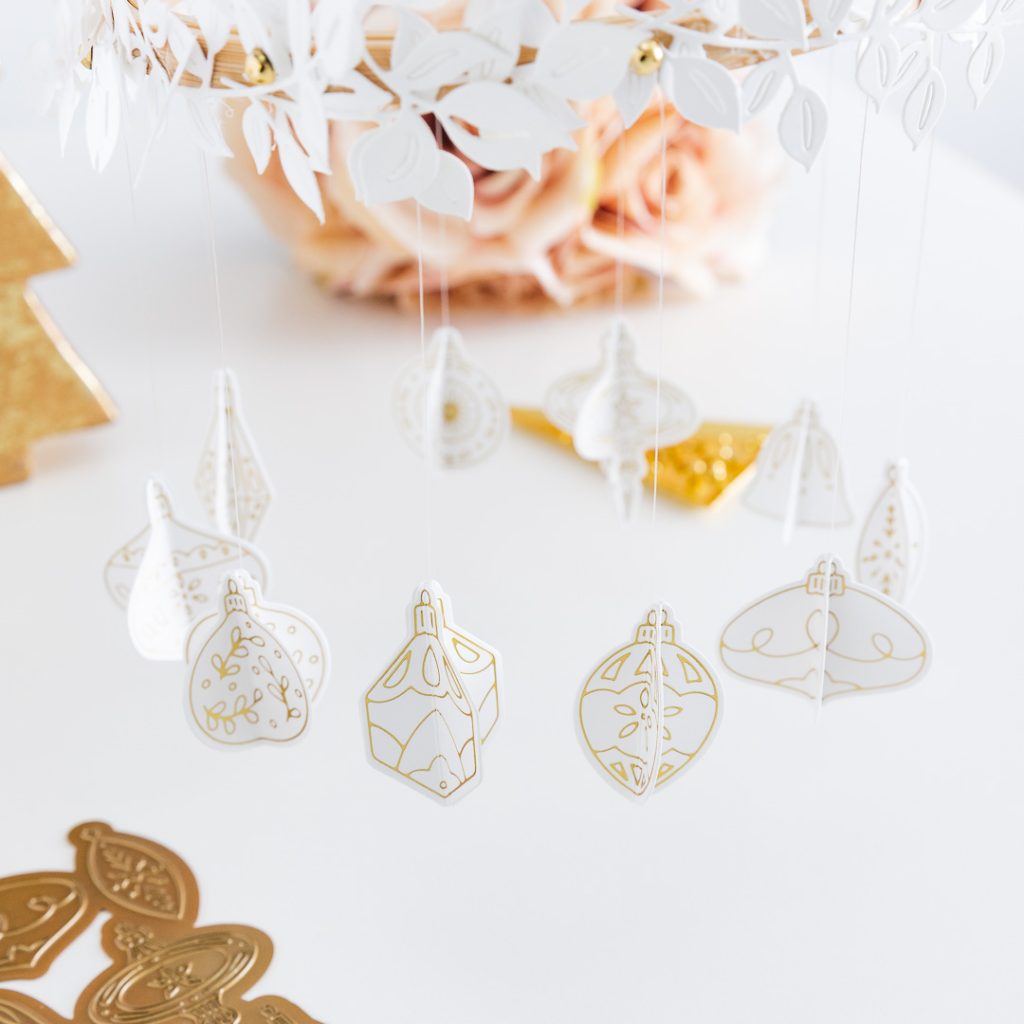 Finally, we need to cut all the leaves necessary to cover the ring (but not completely) using the Curvy Leaves Die Set. And we give the final detail adding some Metallic Pearls: Gold or Matte Gold .
Finalmente, necesitamos cortar todas las hojas/ramitas necesarias para cubrir el anillo (pero no completamente) usando el Curvy Leaves Die Set. Y le damos el último detalle añadiendo unas Metallic Pearls: Gold o Matte Gold .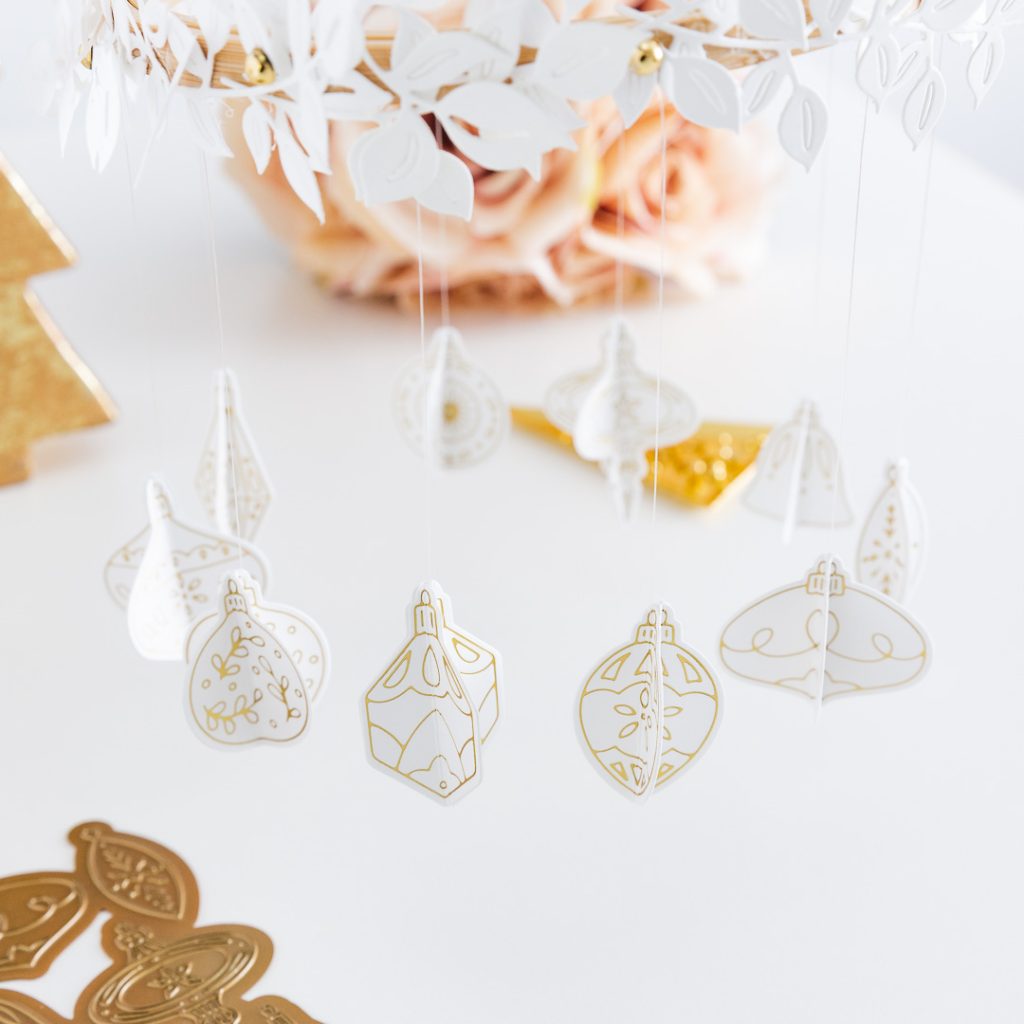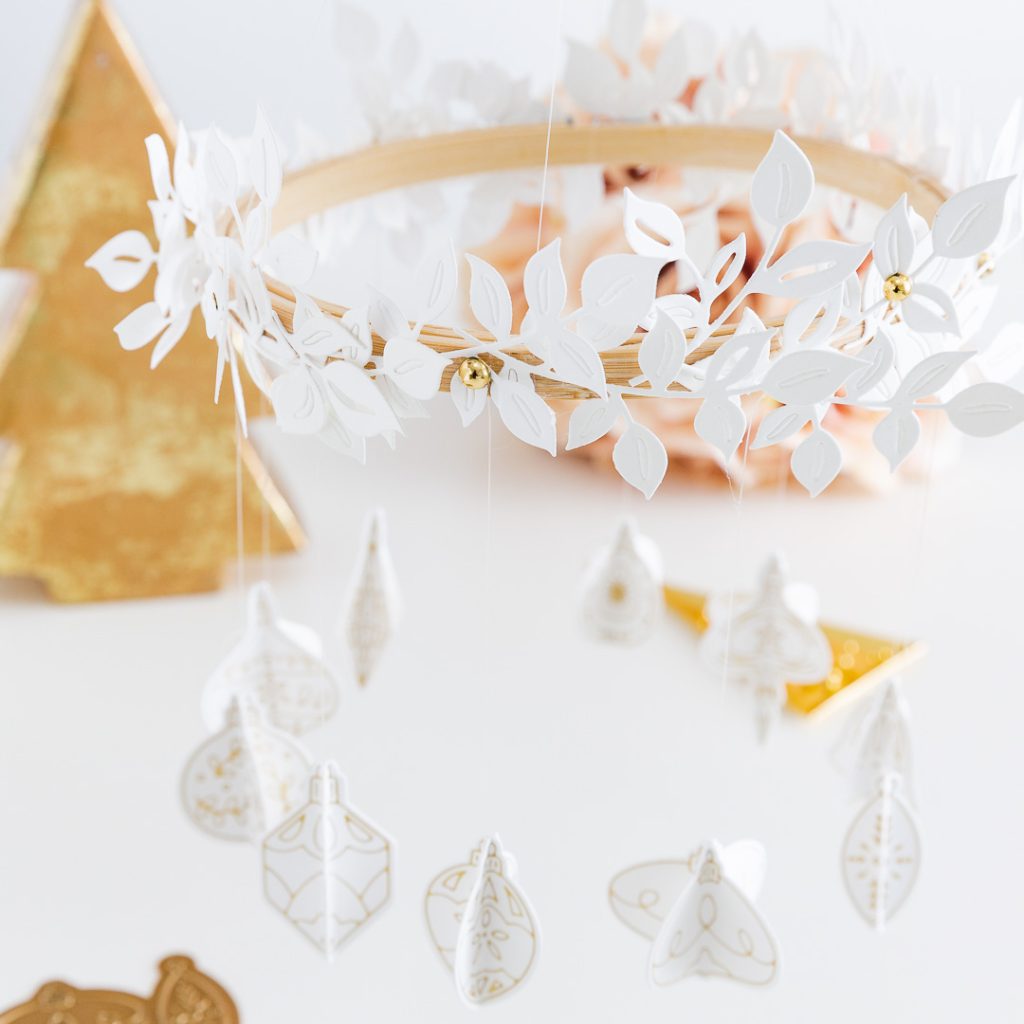 Giveaways / Obsequios
Pinkfresh Studio will be giving away the full release on the Pinkfresh blog & YouTube channel. Also Pinkfresh Studio is giving away a total of Ten $25 gift cards winners chosen from the blog hop. The winners will be chosen from the comments.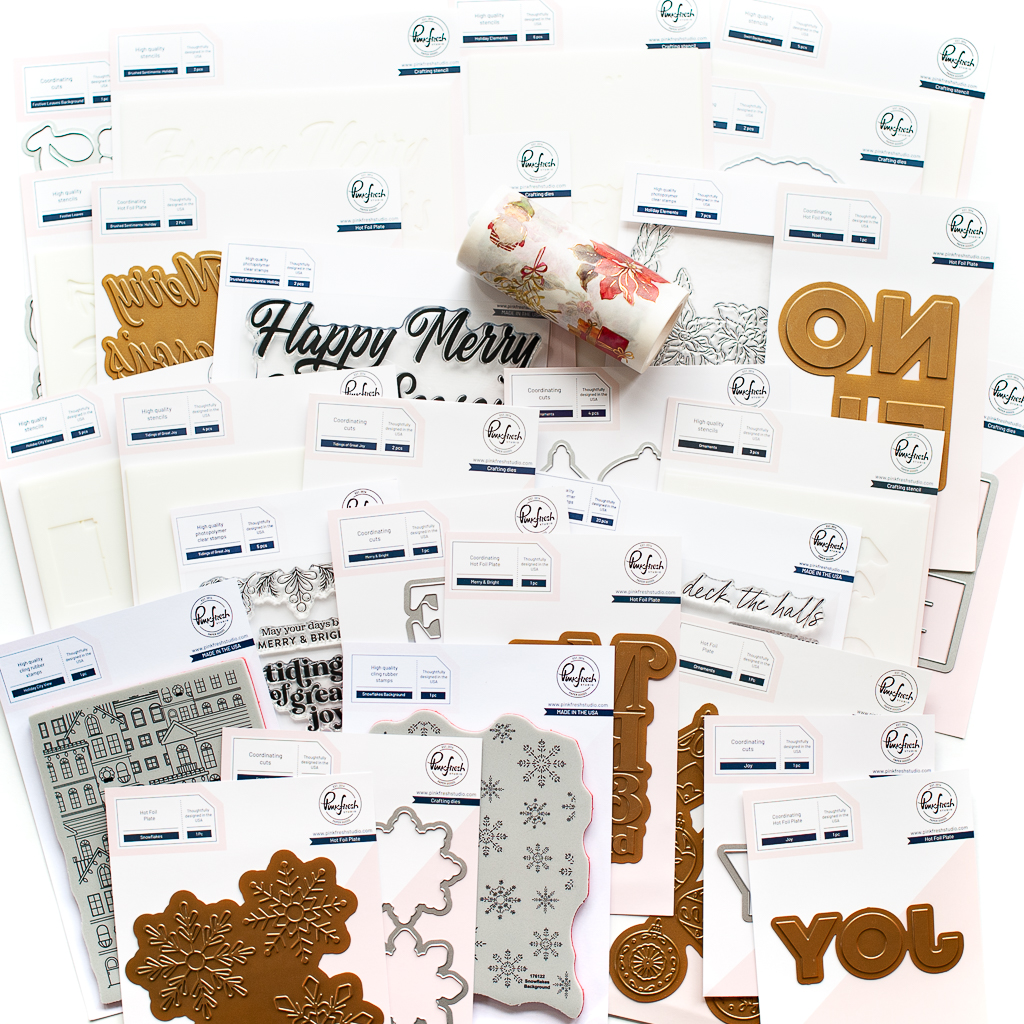 Pinkfresh Studio regalará el lanzamiento completo en su blog y canal de YouTube. Además, Pinkfresh Studio está regalando un total de diez tarjetas de regalo de $ 25 a los elegidos del blog hop. Los ganadores se elegirán a partir de los comentarios.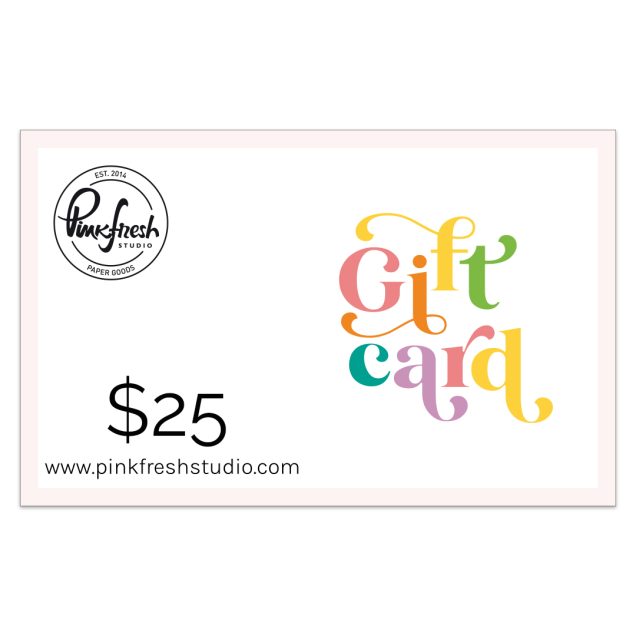 The winners will be announced on SEPTEMBER 20, 2022 on the Pinkfresh Studio Giveaway Page.
* Please check Giveaway Page within 2 weeks to claim the prize.
Los ganadores se anunciarán el 20 de SEPTIEMBRE de 2022 en la Giveaways Page de Pinkfresh Studio.
* Consulta la Giveaways Page en un plazo de 2 semanas para reclamar el premio.
Thank you for joining me for this blog hop. See you next time! Good luck!
Muchas gracias por acompañarme en este blog hop ¡Hasta la próxima! ¡Mucha suerte!
BLOG HOP LINK LIST / LISTA DE LINKS DEL BLOG HOP